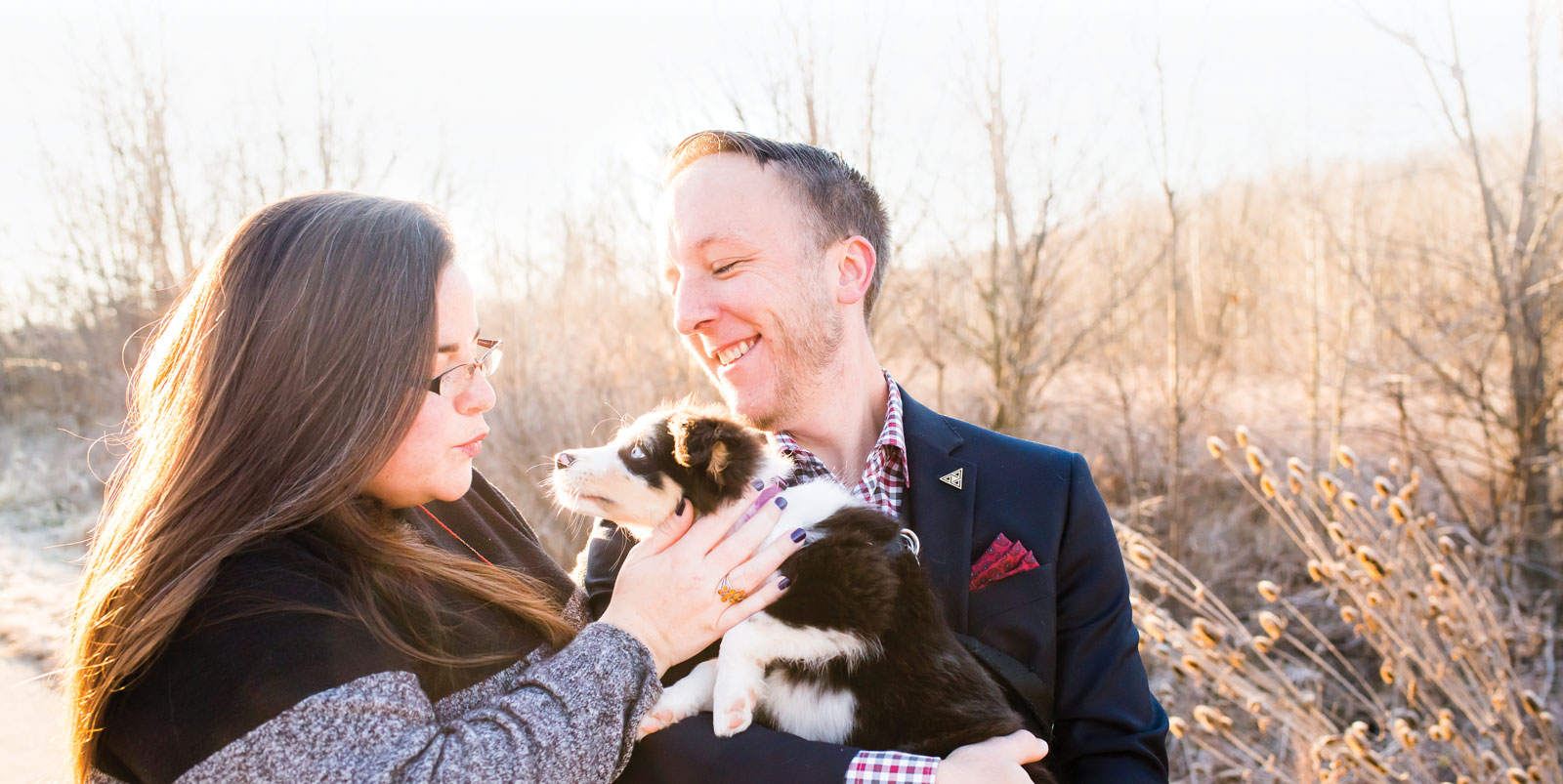 Photo by Lana Eklund of Art & Soul Photography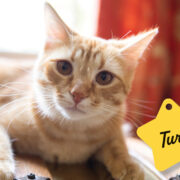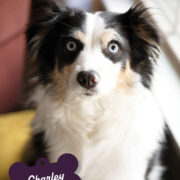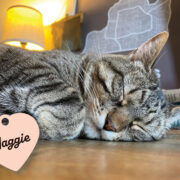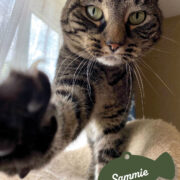 View Gallery
One couple's choice to create a family of fur babies.
When Alex Schwartz and Sadie Thibodeaux arrive home after a long day at work, they are greeted at the door by their six children. However, their children don't regale them with tales from their days at school or show them an art project — they prefer to shower Alex and Sadie with purrs, wagging tails, and the occasional head boop. That's because Alex and Sadie are proud parents, who have chosen "fur babies" over the traditional nuclear family. 
Alex and Sadie met on Match.com nearly seven years ago, and have lived together for roughly five-and-a-half years. Having both grown up with animals, it has always been important to have a partner that shares the same love for them. It's one of the first things they bonded over early in their relationship. "I saw in his profile that he had two cats, and I was like 'Check!'" Sadie remembers.
When they first moved in together, Sadie had her two cats, Morrie and Maggie, and Alex came with his two, Andre and Jack. Throughout their relationship, they have owned eight animals together; seven cats (Jack, Andre, Morrie, Maggie, Sammie, Jules, and Turk) and one dog (Charley). Like people, each of their pets has its own personality and preferences. For example, Maggie is like "Sadie's shadow" and will walk around the house meowing until she finds her "mom" and Sammie is described as a "tiny, angry loner." In many ways, they interact with each other like siblings. Turk, Alex and Sadie's newest kitten, "terrorizes" Maggie, who wants nothing to do with him.
Turk joined the family just last year at the start of Alex and Sadie's anniversary weekend, and the couple likes to think he adopted them. "It's like he was meant to be here," Sadie said, recalling the day they found him. Charley, their mini Australian Shepherd, was outside and began whining along the fence. Sadie, who was watching, took a step stool out to get a peek at what was on the other side. There, she saw a tiny, orange tabby kitten staring back at her, "meowing its little head off." Alex joined outside, and when he rounded the fence, Turk immediately beelined for him, crawled up his leg, and perched upon his shoulder. Just like that, despite having no present desire to have another cat, they were chosen.
Being pet parents comes much more naturally to the pair than having children of their own would, as neither has ever had the desire. Said Sadie, "I've never had that pull (to have children), but I do feel maternal, so I can have those experiences with animals instead." Alex added, "People want to parent, instinctually, but it doesn't have to be a human baby". Their family has been fully supportive of their life decision, even referring to their pet children as their "grand-kitties and grand-doggy".
One of the best things about pets is that they bring things we didn't even know we were missing to our lives. Sadie felt this with Morrie especially, as he became her companion after her father passed. She picked him out with her mom at the Humane Society, and "he really filled a hole in my life."
With that love and connection comes the worst part about having a pet — losing them. Both of Alex's cats, Andre and Jack, have passed away. Andre was his mom's cat and was only 10 weeks old when she passed away. Andre connected Alex to his late mother, making his eventual passing all the more difficult.
As painful as the loss of beloved pets can be, the joy they brought to their lives is worth it. "Despite losing them both, I wouldn't change it," Alex stated. He went on to say, "Some people don't feel that way about pets, the same way some people don't feel strongly about children. But, even though they're not from us, they genuinely feel like ours."