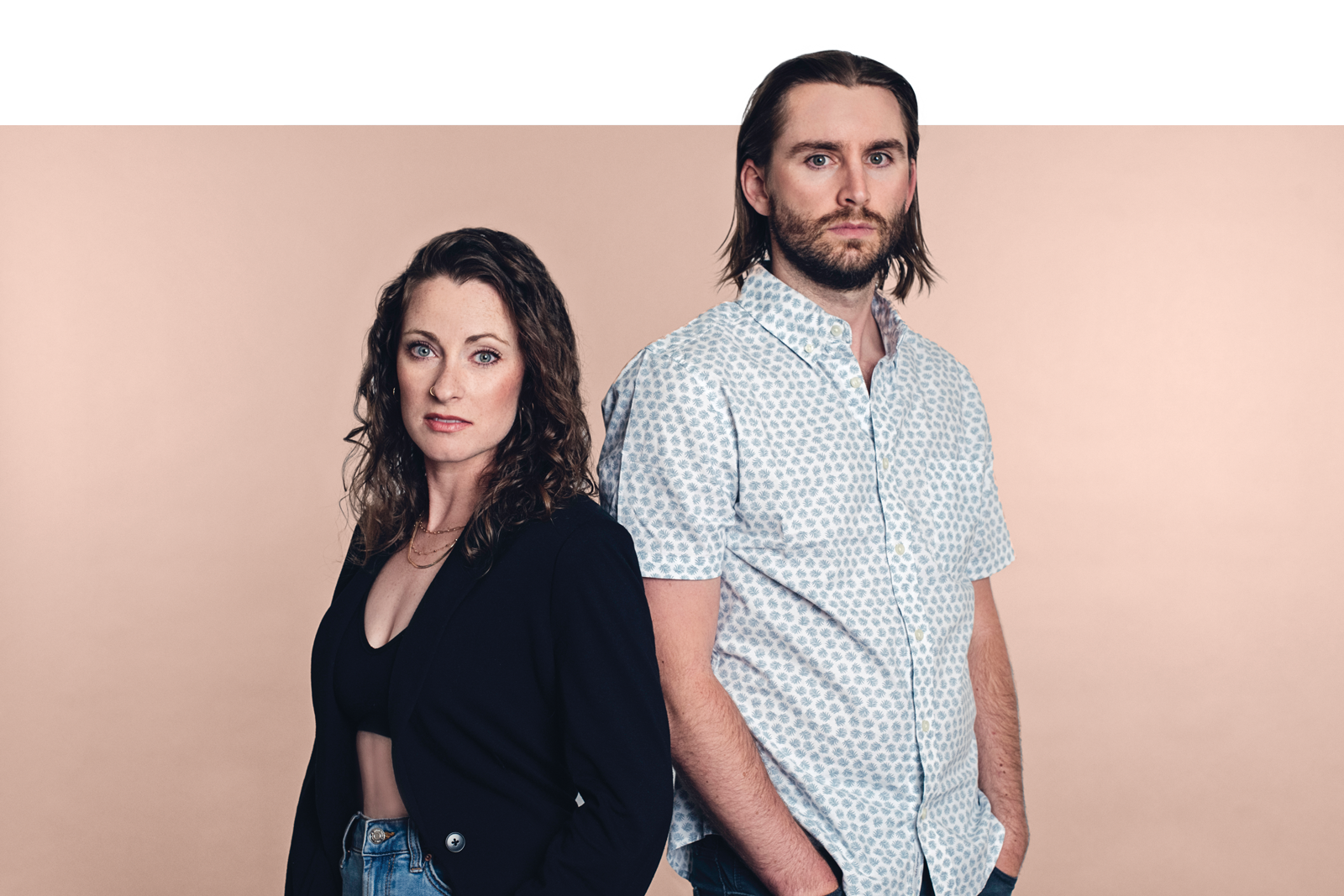 Photo by Schaefer Photography
Married indie folk duo reflect on how music saved their marriage and releasing their first full-length record.
Andrew and Kristen Camp say they've spent a lot of time talking about what their "why" is for making music as indie-folk duo, The January Lanterns. They say it's to tell the stories that need to be told, but that wasn't their original intent. 
The January Lanterns were a byproduct of the couple's attempt to save their marriage through songwriting. They married on a bitterly cold January day years before forming the group in 2017. More recently, the Camps celebrated the release of the group's first full-length album with a well-attended March 12 release party at The Blue Note.
"A question we get a lot is about how we came up with the name 'The January Lanterns,'" Kristen explains. "We kind of view it as like two lanterns lost in a fog, and that's how our marriage felt for a really long time — you could only see a distant glow. We were just trying to make things work."
Andrew, 32, and Kristen, 33, each grew up in Columbia and performed in choir and musicals together at Rock Bridge High School. They started dating at age 16, got married five years later, and had their first of four children within a year of tying the knot. Looking back, both agree that their marriage got lost amidst all those milestones, which led to each of them going through the motions — and that wasn't working anymore.
At her wit's end one night, Kristen remembers turning to Andrew and asking what he wanted from her. Expecting Andrew to rattle off a laundry list of her faults, he instead shocked her by saying, "'I just want to get up with you at 5 a.m. tomorrow, and I want to have coffee with you on our deck.' So we started getting up at 5 a.m. before the kids got up and we did that for a really long time. And during those 5 a.m. meetings, we slowly worked through all of these issues and we started writing songs that captured that."
Kristen makes singing look and sound effortless. Her tone is pure — smooth and energetic, but with incredible range. Andrew accompanies on guitar, but has a voice just as smooth as his wife's. You can really feel the emotions behind the lyrics when he sings.
Asked to describe their style, the Camps say, "Think Phoebe Bridgers' lyrics meets Bon Iver's backing tracks and The Paper Kites' harmonies."
"Writing songs and singing together and sharing our story was a freeing way to realize that we have a special story, and maybe help other people who have been down a similar road," Andrew says.
The couple had some recording gear from some previous projects and decided to try putting some tracks down. They spent a year turning a spare bedroom into a recording studio. The next challenge was not letting perfection be the enemy of good.
"We were really used to everything being perfect," Kristen remembers. "But we really felt like this could be our own thing — it doesn't have to be perfect, we could release it, and the imperfection could be part of the story."
"Let's just do it. It's going to sound really bad, probably, but that's OK," Andrew recalls. "And if anything, I'd rather have this curve where we get better instead of the first thing we make is perfect with no [upward] trajectory."
In 2017, The January Lanterns began releasing singles, debuting a handful of songs every year through 2020 and booking gigs. Then, like so many artists did during the pandemic, Andrew and Kristen went to work on their first full-length album, "For the Kids, When They're Older."
"We were done [with the album] in May 2020, and wanted to release it that fall, but we couldn't because of Covid. Even in early 2021, we were thinking about releasing it [but couldn't because of Covid again]," Andrew says.
But 2022 is their year! The release party show was packed, and the crowd loved the interactions between Andrew and Kristen on stage. The duo openly shared the stories of their marital woes while exchanging loving glances and little jokes with each other.
Unlike a lot of musicians their age, the Camps have four children under the age of 9. Moving forward, they say they'll be selective about which gigs they'll play so they can be home more. Something they're working on right now is getting their music licensed to be used in movies and TV. It's work that can be done from home for Kristen, who is acting as the band's full-time CEO while Andrew works as a software engineer at Veterans United Home Loans.
"Songwriting really helped us to find each other again in the fog and fall back in love," Kristen says. "I realize that sounds really cheesy, but it taught us to look each other in the eyes again. We got so lost in the day-to-day stuff." One track on the album is called "Thick Fog," which begins with the lyric "I'll see you in the morning, at five I won't be snoring" and ends with "Let's fall in love, again and again and again."
It pays homage to their marital journey, and serves as a reminder that they'll always know how to find each other in the fog.