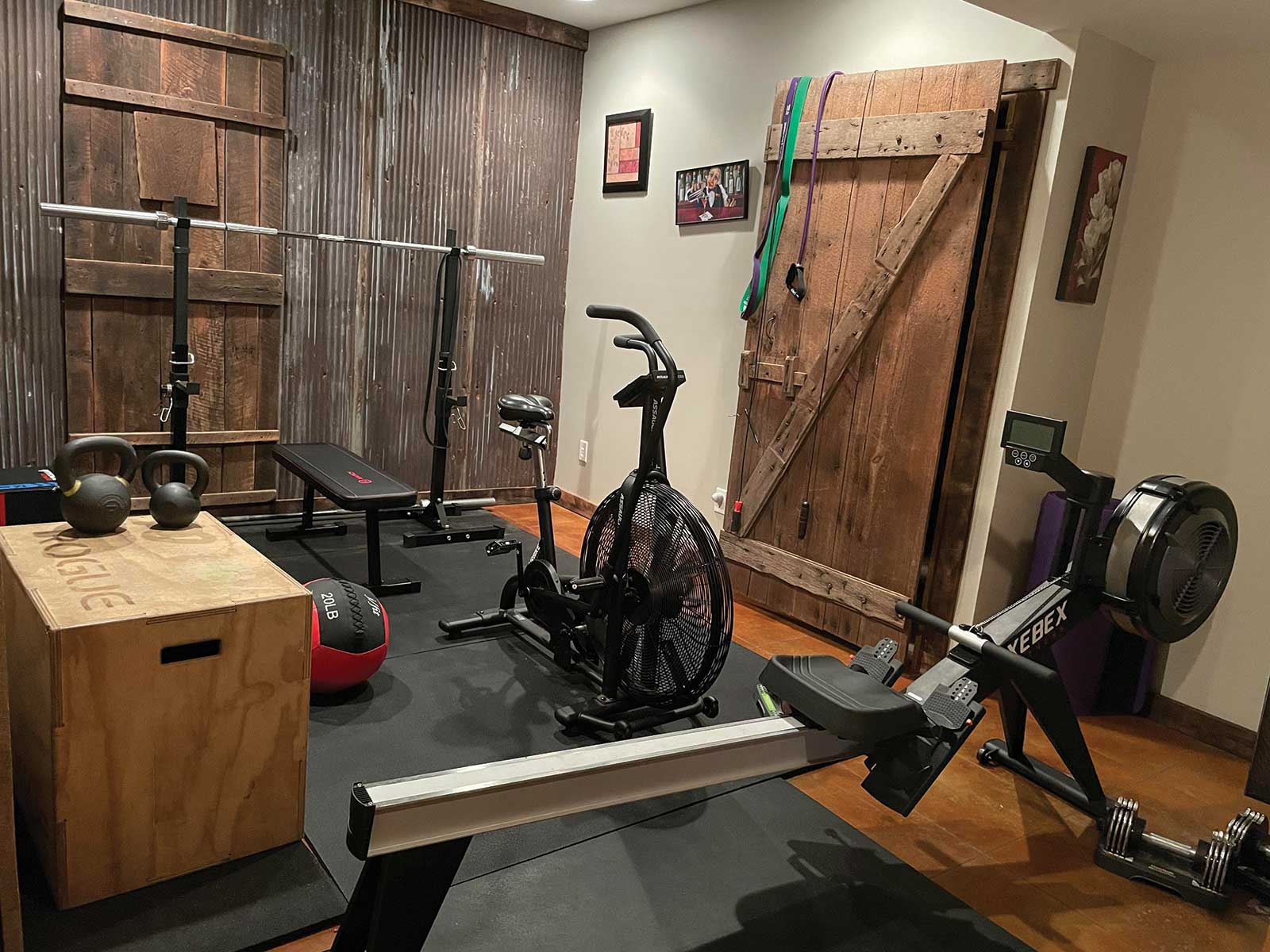 The various ways readers have been adapting their homes in the time of COVID.
In many ways, 2020 was the year of adaptation. As COVID-19 forced many of us to spend unprecedented amounts of time in our homes, we found ourselves looking for ways to make our homes accommodate the activities that normally took us away from them. Columbians found ways to make room for home offices, home gyms, and more.
The Home Gym
"I wanted a place for all of us to be able to stay healthy, exercise, and release some COVID and winter-stress blues," says Kim Becking.
After overcoming breast cancer a few years back, Kim, who is a best-selling author, motivational speaker, and leadership expert, started hitting the gym to rebuild her strength. For years, she's been working out with a personal trainer at the ARC, but the pandemic changed that for Kim — especially after contracting COVID-19 herself. She decided it was time to turn a catch-all room in her home into a dedicated home gym. With winter coming, Kim wanted a space where she, her husband, and their two teenagers could work out.
"The gym would provide not just a place for physical well-being, but also mental well-being. This is needed now more than ever. There is power in movement, in exercise, in strength training — especially during tough times. It helps build our resilience," Kim says. "I got the kids involved. They brought their weights and things from their rooms. We made a list of other things they wanted in the gym and built the room together."
The home gym has provided the family with a refuge that allows Kim to keep her eye on her future health and well-being.
"I turn 50 in March, which is a big milestone for me, and I want to be strong and healthy," she says. "I'm also excited to be able to start working out virtually with my trainer again in the coming months, and now I have a space that will work perfectly for our sessions!"
When the pandemic began, certified yoga instructor Jessica Macy needed a home yoga studio to both practice and teach. She transformed an unused space in her basement into a yoga space. Jessica started taking yoga classes at Alley Cat Yoga three years ago and became a certified instructor in December 2019. She doubts she would have created the home studio if not for the pandemic because she would still be going to Alley Cat.
"I created a space where I could teach yoga but also practice. I love going to the studio and practicing with others, but times do change. While a big part of yoga for me is the community that you practice with, it is also about respecting all living things. For me, that meant getting online to protect me, other students, and other teachers," Jessica says. "I had no desire to teach online. Heck, I was still figuring out how to teach! But I also needed a place for me to practice where I don't feel like the world is watching — the windows in the living room are way too big!"
She says the yoga studio is a space of her own where she can practice daily, which relieves stress and saves her sanity.
For Revee White, director of marketing and communications at Missouri Employers Mutual, staying physically active has always been a priority for her, her husband, and their two children, who are 7 and 10. She says that fitness is important to their mental, physical, and emotional health, and that working out as a family helps her kids learn how important physical activity is. The gym also provides a space for the kids to do their remote P.E. class for school. When the pandemic hit, the whole family got involved in finishing an existing home gym by selecting equipment for the space.
"We had the start of a home gym before COVID, and we used it periodically — primarily on the weekends or when we didn't have time to go to the gym. During COVID, this was our primary space to work out," Revee says. "We already had a rower and weight bars, and we gradually added other equipment. Our gym includes a rower; a bike; men's, women's, and kids' weight bars; a bench and rack; dumbbells; kettlebells; wall ball; yoga mats; jump ropes; and more. We have a TV for when we want to follow along to a program like [YouTube channel] Yoga with Adriene. During lockdown, our entire family would do Zoom workouts through our gym, CrossFit Fringe."
At least one family member uses the gym daily, and Revee loves the convenience of having a home gym.
"When the gym is in your home, there's no excuse not to work out. It's part of our routine. My husband and son still go to the gym a few times a week, but for me, I do most of my workouts right here at home. It saves me time and keeps me healthy and working toward my goals."
The Home Office
"Being empty nesters allowed us to adjust our home for two offices," says Kim Trabue, the manager and secretary treasurer of PWArchitects. "[If we weren't] at this stage in life, the shift would have been much more difficult."
Kim and her husband, Tom, repurposed bedrooms to create not one but two home offices. Tom is the chief engineer at Trabue Engineering and founder and CEO of theNextStep, a professional training and coaching business. Tom had previously been using one of their three bedrooms for his consulting business, and Kim converted another bedroom into her office. That bedroom was originally their son's, and years back, they added a built-in desk and shelves for him. After he left home, the bedroom became a craft room. Kim says by adding a few pieces of furniture, the room became a great office space for her.
But with the bedrooms on the same floor, the proximity of their home offices was too close, so the basement became Tom's new office — which had previously been a long-term project he had been working on. The pandemic has had a way of accelerating plans like that.
"With only minor adjustments, Tom and I set up two home office spaces," Kim says. "We certainly needed some separation between our offices. With him in the basement and me upstairs, it works well — except when we compete for bandwidth."
Kim says that she and Tom once thought they could one day share a home office, but the reality of virtual meetings changed that. Having separate spaces helps to keep out of each other's way.
For artist Madeleine LeMieux, founder and director of Resident Arts, a nonprofit that provides professional development for artists of all levels, working from home meant creating a home art studio. She also is currently attending MU to receive her MFA in painting.
"While we were sheltering in place and out of classes, I was still expected to make work and have virtual critiques, so I needed space away from pets and children where I could do that. I created a temporary art studio in my unfinished basement when I could no longer use the graduate studios at the university," Madeleine explains. "I had used the [space] previously in a rougher state when I went on maternity leave in 2018. This time, I made more of an effort to make it feel like a space I wanted to spend a lot more time in. It was always a temporary solution, as I am [now] moving into a more permanent studio space outside of my house that isn't affiliated with the University."
Madeleine says it was just a matter of adding some rugs to the concrete floor and hanging some panels to frame out temporary walls to make the space more functional. The basement already had a sink and a bathroom to complete the space. With her husband working from home and both kids always at home, she says the space isn't perfect, but has worked in a pinch. She plans to use the space for art storage after she settles into her new out-of-home studio.
The Outdoor Oasis
In addition to creating two home offices, Kim and Tom Trabue renovated their back deck and yard to create an outdoor refuge. Years ago, they added a Trex composite deck to an existing concrete patio. In 2020, they added new patio furniture to create an outdoor living room. The yard boasts a koi pond, greenhouse, and large vegetable garden. They used Rost Landscaping to fence in a portion of their backyard to give their dogs more freedom and security. They had already planned on these renovations, but like their plans for a basement office, the stay-at-home order motivated them to tackle the project sooner.
"The deck and yard improvements allowed us to continue our Friday night dinner ritual with extended family. During pandemic restrictions, our restaurant dining became outdoor deck dinners with safe social distancing," Kim Trabue says. "Being able to maintain our routine has been a great stress relief, and we have done something positive in supporting local restaurants with takeout from our favorites. The improvements to the backyard and deck were on our agenda before the pandemic. We just didn't know how much we would enjoy the space."