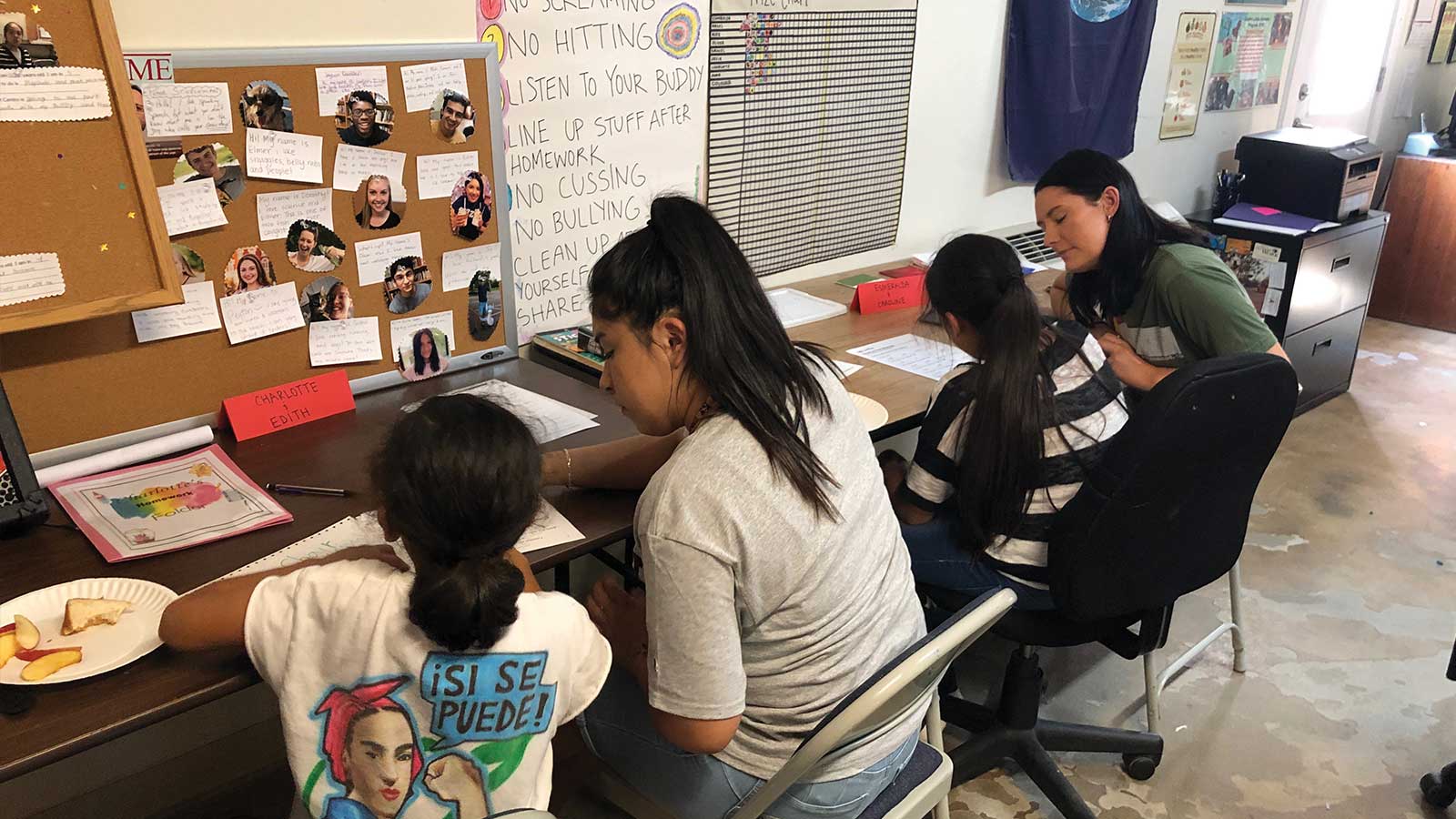 A grassroots organization, Centro Latino de Salud, empowers the underrepresented.
At Centro Latino de Salud, volunteers and participants alike live by three words: juntos se puede, together we can.

The longstanding community group empowers Latinos, and the Columbia community at large, by providing Latino families and individuals with education, community, and health services.

It's been 20 years since Centro Latino first opened their doors, and today around a dozen students participate in the program. For Centro Latino's executive director Eduardo Crespi, quality means a lot more than quantity. "We are a small organization with big results," he says.

The organization was established after Eduardo saw the need for culturally appropriate services for the Latino community. Although he currently resides in Florida, his heart lies in Columbia with the many volunteers who keep the organization running. One of those volunteers is MU student Dorothy Scales. "She's priceless in the work she's doing," Eduardo says.

Dorothy, who was recently promoted to the volunteer role of program director, has been volunteering with the organization for nearly two years. She has also served as the outreach coordinator for the after-school program as well as head coordinator, with the help of MU's Office of Service-Learning. "I ran the after-school program, which was a lot of scheduling, setting up transportation, and orienting volunteers," Dorothy says. Now she helps Eduardo handle grant writing, scheduling, and overall operations.

Fortunately, MU's Office of Service-Learning still lends a hand in giving Centro Latino a slew of volunteers, social media interns, and event coordinators. "It's not just one person doing everything," Eduardo says.
Working Beyond School Hours
Their after-school program is a big part of Centro Latino's model. It runs Monday through Thursday from 3:30 to 5:30 p.m. and acts as a time for local kids to learn and play beyond regular school hours. "Our after-school program started for Latino children, but now it's morphed into students who are immigrants and on the free-and reduced-lunch program," Dorothy says. There are now a handful of students from immigrant families who speak Swahili, for example.

Since first joining the Centro Latino team, Dorothy has seen the after-school program grow in the right direction. "When I started, it was kind of chaotic," she says. The program lacked structure, which was desperately needed. Taking matters into her own hands, Dorothy used her role as head coordinator to implement some necessary ideas. "Seeing the kids have the structure that allows them to work and do their homework efficiently is pretty cool," she says.

While Dorothy works behind the scenes, others spend their time differently. Volunteers, most of whom are only scheduled for two days each week, are paired with specific students for the duration of a semester. This means each student gets two alternating, but consistent, volunteers. "That volunteer really acts as a mentor for the kids," Dorothy says. "We like to keep them with the same one consistently because they form a relationship and are able to help them with their academics better and know them better."

Besides homework help and some well-earned downtime toward the end of the two hours, the children are provided with healthy snacks through the Kids in the Kitchen program. Kids in the Kitchen is a program run through MU that encourages healthy diets through hands-on learning experiences and the USDA's MyPlate. "We also teach the kids how to make the snack in hopes that they bring those healthy habits back home to their families," Dorothy says.
Encouraging Community Efforts
Students aren't the only ones who can receive educational help. Centro Latino offers both Spanish and English classes to the public.

Spanish classes are $10 per session and are held on Tuesdays from 5:30 to 6:30 p.m. "It doesn't matter your fluency or your level of Spanish," Dorothy says. "Anyone's welcome, and we have volunteers to help if you need one-on-one help."

Centro Latino's English as a second language, or ESL, classes have been offered since the program's start and are conducted with the help and partnership of the Frederick Douglass School for Adult Education. ESL classes are year-round and take place on Mondays from 6 to 7:30 p.m. Participants are encouraged to donate $5.

Typically, Centro Latino's ESL classes target working-class Spanish speakers in the area. The classes are meant to ease the troubles that non-English speakers can face when navigating different areas of life, from shopping to medical care — Centro Latino even offers support by translating documents. According to the website, "The long-term goal of Centro Latino's ESL classes is to enable the ESL students to become more competent, confident, and self-sufficient members of the community."
An Impact Like No Other
Whether it be through tamale fundraisers or language classes, the programs that Centro Latino offers are just one way that they've solidified their place in the city among those who utilize its services. For Eduardo, Centro Latino is more than what meets the eye; he says that he considers Centro Latino to be responsible for "pioneering the beautification" of the Garth and Lynn neighborhood, for example. But more importantly, Eduardo is proud of what Centro Latino has been able to accomplish without the major financial backing that other nonprofits benefit from. "We do the work with or without money," he says.

Plans to commemorate the organization's 20-year success are not yet in place. "I'm in the works of planning something," Dorothy says. Whatever the celebration may look like, a two-decade milestone for a grassroots organization is certainly worth recognizing.
Founded: 2000
Board Members:
Eduardo Crespi, executive director
Vicky Boyd-Kennedy, president
Rev. Heather McCain, vice president
Brad Boyd-Kennedy, secretary
Mission Statement:
To empower Latinos, Latino families, and the general public through provision of services and guidance in navigating the health, education, and cultural resources of Mid-Missouri.
Centro Latino de Salud
609 N. Garth Ave.
573-449-9442
centrolatino.missouri.org