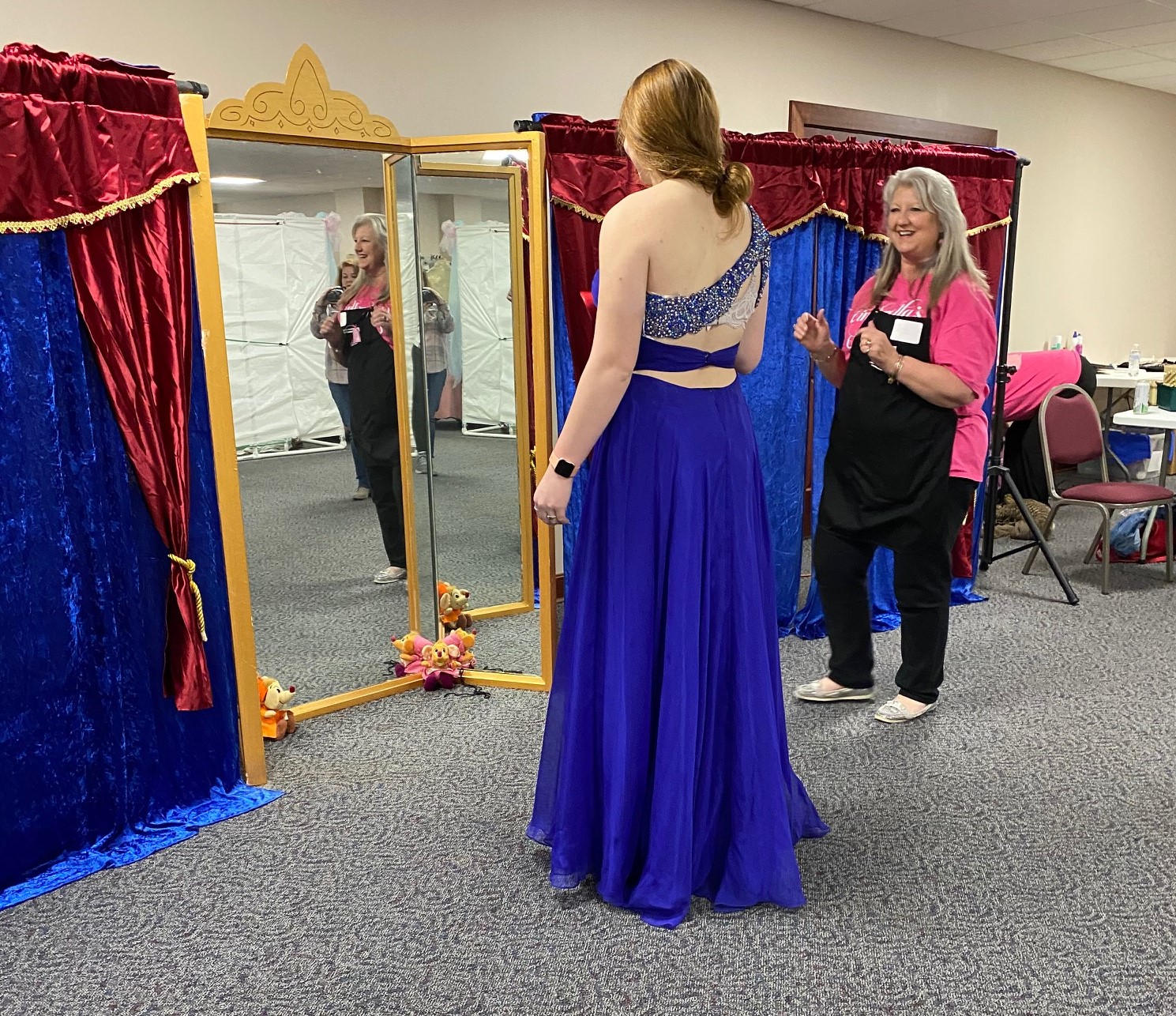 Cinderella's Closet offers young girls a memorable prom experience through their annual Dresses to Dreams event.
Cinderella's Closet of Mid-Missouri recently hosted their third annual Dresses to Dreams event, which helps young girls find a dress and accessories for their prom.
Prior to the event, the Cinderella's Closet team contacts Mid-Missouri high schools to request referrals of young girls that need help preparing for their prom or girls that need a confidence boost. Once the girls are referred, they get sent a princess certificate detailing the date, time, and location of the Dresses to Dreams event. When they arrive, they have the opportunity to have their own Cinderella moment as they are greeted by fairy godmothers.
Volunteer fairy godmothers dedicate their weekend to the event. This year, 45 volunteershelped around 40 young girls find their dresses, jewelry, and shoes. They also helped the girls feel more comfortable and confident in their own skin. After they find their perfect gown, the girlssit down with a hair stylist and makeup artist to learn helpful tips they can use for prom night.
The girls have the opportunity to choose their perfect gown, find their own version of the glass slipper, and choose their sparkling jewelry. And none of it has to be returned––it's all a giftto them to help them have a perfect night. "By the time these girls leave, you're seeing happy tears, smiles, and girls leaving standing up a lot taller––our mission is to build confidence in girls," explains Lori Baumgartner, director of Cinderella's Closet of Mid-Missouri.
Dresses to Dreams really does make dreams come true. Lori remembers one young girl in particular that attended the event with her mother. The mother explained that she had incurable cancer. The mother hadn't been able to work for a few months and her daughter wouldn't have been able to go to prom if it weren't for the women at Cinderella's Closet. As the young girl was trying the selection of shoes on, she found that none of the shoes available fit her properly. Knowing the situation at hand, the fairy godmother that was accompanying her reached out to Lori and explained what was going on. To help her further, the directors got together to find a new way to provide her with shoes that fit her for the perfect night. "When there's a need and we can't meet it, we try another direction, so nothing goes unmet," Lori says.
Lori explains that the biggest success is being able to watch the girls leave feeling more confident with who they are. Apart from this, the event has gained more attention. In turn, Lori was able to procure Panera, Jimmy Johns, and Rio Grande for the volunteers to eat. In years prior, volunteers had to bring food to share, so being able to provide these hard-working women with food for the weekend is a significant success for the organization.
To continue gaining success in this event, Lori hopes to be able to procure more dresses for girls with more curves, and jewelry that will make the girls sparkle.