Unleashed: Man's Best Friend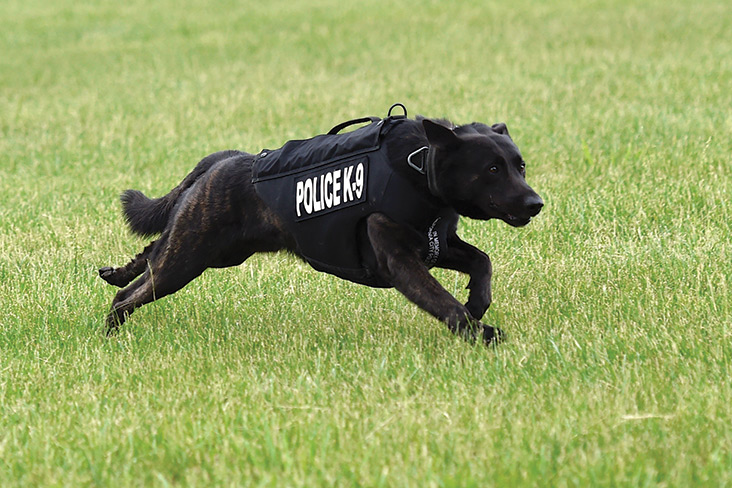 How Officer Jamie Dowler and Gorrit have become more than partners in stopping crime.
Officer Jameson Dowler (he goes by Jamie) of the Columbia Police Department has a pretty unique partner in stopping crime. His name is Gorrit, and he's a 2-year-old, jet-black Dutch shepherd. It started out as a partnership and soon became a lifetime bond between a man and man's best friend.
Hand-picked from Europe, Gorrit was moved to Shallow Creek Kennels in Pennsylvania, where he received several weeks of pre-training to become a police dog. The head K-9 trainer for the Columbia Police Department, Sergeant Scott Hedrick, had the task of matching Officer Dowler to a dog.
Knowing Officer Dowler's specific personality traits and observing the personality of other dogs in the kennel, Sergeant Hedrick matched him with Gorrit. After the match was made, Officer Dowler and Gorrit went through an eight- to 10-week handler training where Officer Dowler learned how to make commands, Gorrit learned who was boss, and a strong bond was formed.
In June of 2015, Gorrit completed the extensive training and got ready for field duties. He's now able to detect narcotics, performing area, article, and body searches, and he can track and apprehend suspects. In October of 2017, a nonprofit organization, Vested Interest in K9s, donated bullet and stab protection vests for the K-9 dogs of the Columbia Police Department.
Because of the charitable donation, the only thing Gorrit has to worry about is minor hip or knee issues from jumping in and out of the police car, which is why police dogs are able to retire at about 9 years of age to obtain a better quality of life.
Just like people with jobs, the police dogs of the Columbia Police Department go home after work and relax with their new families. After a laborious day at work, Gorrit goes home with Officer Dowler. "When he's at home, he's a dog. I want him to decompress just like I do. When we're not working, I make sure we don't do anything work related," he says. "We go home, we relax, we play ball and run around."
When it comes time for Gorrit to retire from the K-9 Unit, Officer Dowler will have the choice of whether or not he wants to take in Gorrit as a family dog. "I haven't met someone that wouldn't take their own dog," he says. "I'm with him more than my own family. We have a pretty unique bond; he's my partner."
The K-9 Unit at the Columbia Police Department is currently four strong with dogs Kane, Raf, Duncan, and Gorrit. They are seen as invaluable assets to the department. To Officer Dowler, not only is Gorrit a partner when stopping crime, but he's also a partner in his life.