painting photo by Deanna Dikeman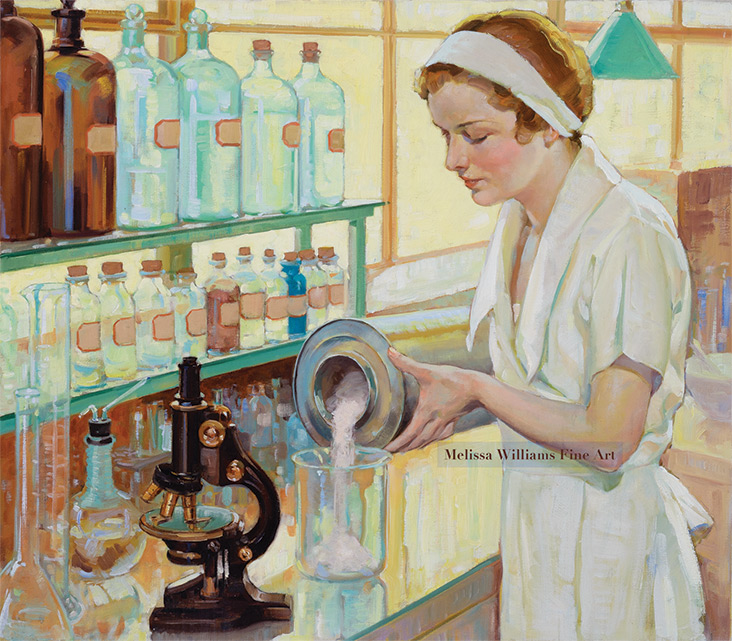 Painting of young MU chemist now on exhibit.
In 1927, a petite, lively redhead entered the virtually all male chemistry program at MU. Two years later, the same young woman won her degree and ranked not just at the top of the chemistry class, but also at the top of her entire graduating class.
The young Frances Herdlinger, who was only 20 at the time of her graduation, managed to get a job teaching high school chemistry, only to see her job eliminated by the economic pressures of the Great Depression.
Meanwhile, Forrest Mars, who is widely regarded today as a visionary businessman, had been working in his newly built laboratory in Chicago with a chemist named Estelle West. In 1930, Mars needed a second chemist and, partly through the intervention of an MU chemistry professor, offered the job to Frances.
During the years Frances worked at the lab, Forrest Mars was developing the Snickers and Three Musketeers candy bars. Though Mars was relatively isolated from the rest of his staff, he liked to visit the chemists in his lab. Frances told a reporter, "He would turn up often with something new for us to try."
The 1930s also saw the creation of a new form of commercial advertising that was illustrated by professional painters. During Frances's career, one of the most influential of these artists, Andrew Loomis, was creating paintings to illustrate the allure of Mars candy, Kellogg's cereals, and Coca-Cola. One of his paintings featured Frances, created from a photograph taken while she was working in the laboratory at Mars Inc. Though there is no evidence that the painting was used in an advertisement, the artwork was left at the lab.
When Frances decided to marry in 1935, she and her fiancé travelled from Chicago to Columbia for a quiet wedding at Calvary Episcopal on Ninth Street. They stayed at the Tiger Hotel.
During the tight job market of the Depression, there were some who thought women should give up their jobs when they married. Frances, however, kept her job at Mars Inc. for five years before leaving in 1940 to start a family. When she left, Mars gave Frances the painting as a retirement gift.
Andrew Loomis' painting of Frances Herdlinger is now on exhibit at Melissa Williams Fine Art.