September: Briefly in the News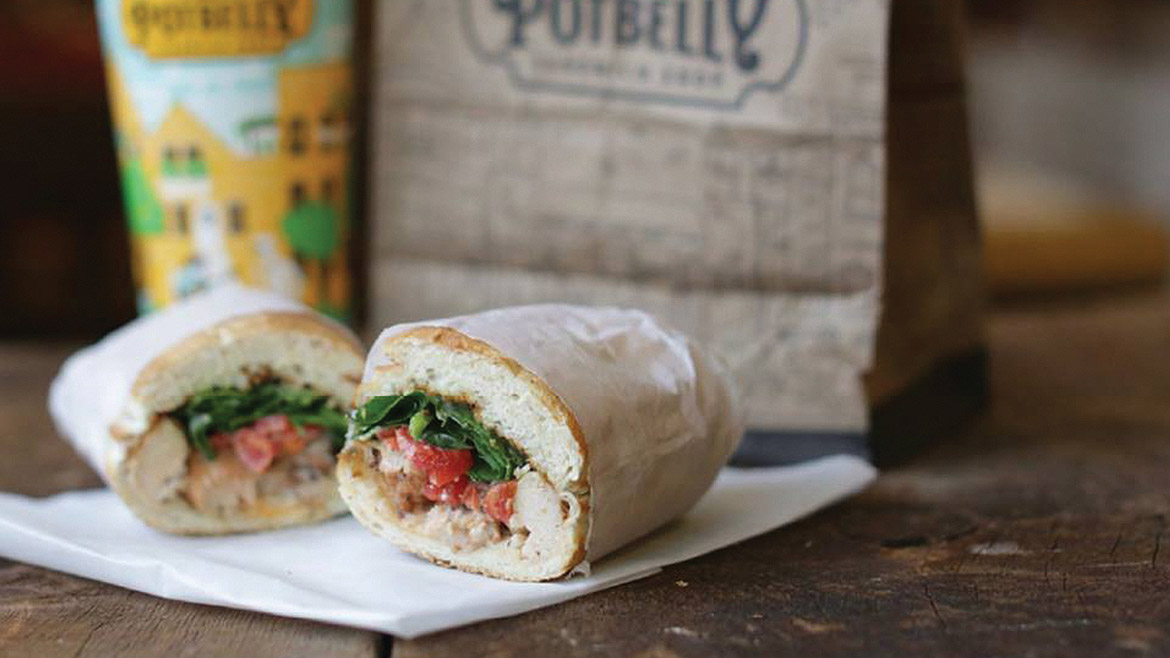 Potbelly Sandwich Shop
Evan Thomas, Columbia native and former general manager of several Potbelly Sandwich Shops in Chicago, returned home as a franchise owner. Thomas opened the new Potbelly location, Columbia's first, at Broadway Bluffs on July 25. The chain is known for its toasted sandwiches, milkshakes, and live music, and they operate more than 400 shops across the U.S. and abroad. Proceeds from the new location's "oven-warming" event on July 24 went to the Food Bank for Central & Northeast Missouri.
Medical Research Goes Ancient
Kattesh Katti, a researcher at MU who works with gold nanoparticles, has developed a non-toxic delivery method for gold to be used with Ayurvedic medicine, a method that's among the world's oldest medical practices. Katti's technique uses green nanotechnology to remove the toxicity of gold particles in Ayurvedic compounds, in which the metal is ground, burned, and mixed with herbs before being ingested. The technique has been licensed by Dhanvantari Nano Ayushadi, a company based in Tamil Nadu, India, and will be used to treat diseases like cancer, arthritis, and diabetes.
Boone Moves Toward MU
The Boone Hospital Board of Trustees reached unanimous consensus to explore "the feasibility of aligning" with MU Health Care, the trustees said. The announcement comes as a signal that further negotiations with Boone's other potential partners — BJC HealthCare, Duke LifePoint Health Care, and Saint Luke's Health System — are now on hold. The trustees and MU Health will discuss potential plans to enhance quality, increase efficiency, and expand access for both parties' patients.
"These discussions have the potential to help us identify ways to build a truly innovative and more effective system of health care delivery and innovation." — Brian Neuner, Boone Hospital Board of Trustees Chair
Peak Sport and Spine Acquires New Company
Peak Sport and Spine, the company formed in 2014 with the merger of Peak Performance and Sport and Spine Rehab, has purchased PT Partners, of Leawood, Kansas. The new acquisition takes Peak Sport and Spine to full or partial ownership of 50 clinics, mostly in Missouri. Owners Todd Ankenman, Shaon Fry, Mark Dempsey, and Phillip Smith are all based out of Columbia.
CACC Named Outstanding Technology Center
Columbia Public Schools' Columbia Area Career Center was named an Outstanding Technology Center by the Southern Regional Educational Board at the 31st annual High Schools That Work Staff Development Conference in Nashville on July 12. The center was recognized for its consistent high performance on Perkins performance indicators, concentrating on two focus areas: implementing project-based learning while cultivating a culture of continuous improvement and advancing the quality of the career technology curricula and program evaluation.
New Woodhaven Facility Opens
Coil Construction completed construction on the 5,700-square-foot building that will be home to a new living facility for Woodhaven, a nonprofit assisting people with disabilities, at 410 Green Meadows Cir. in Columbia. The facility features five aging-in-place residence units for adults with intellectual and developmental disabilities and is 100 percent ADA accessible. Each unit will have a kitchen, bathroom, bedroom, and living room.
"Woodhaven is an outstanding partner in our community, offering top-notch service and quality that allows them to become an extension to many families." — David Coil, Coil Construction
Hawthorn Banking Center Downtown
The Plaza 807 office building going up at Eighth and Walnut in downtown Columbia has secured its first tenant: Hawthorn Bank, which will occupy the first two levels of the building once completed. The bank announced in July they'll be opening their second Columbia banking center in the building and will take up occupancy upon Plaza 807's scheduled opening in roughly 18 to 24 months.