Strong Woman: Lindsay Young Lopez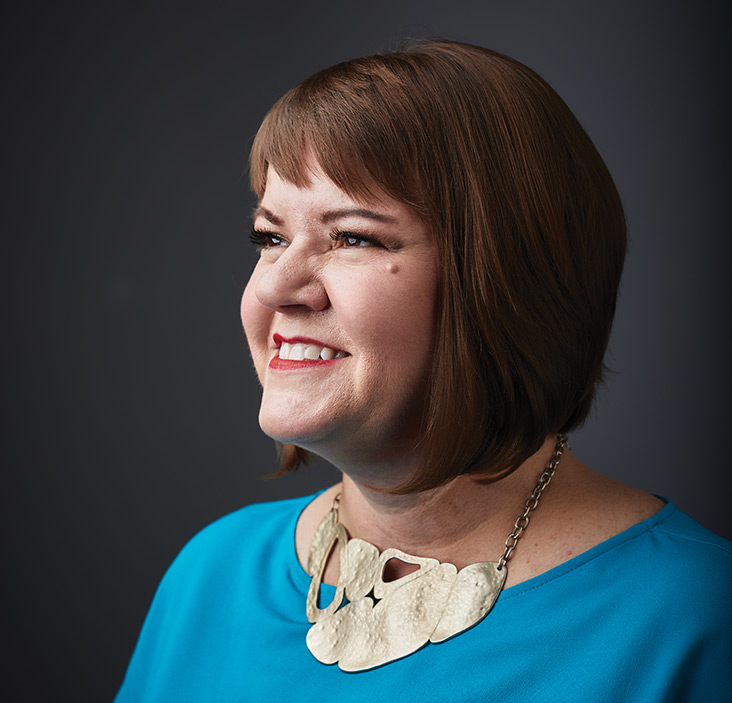 The Food Bank director discovers hope in the future.
Lindsay Young Lopez, executive director of the Food Bank of Central and Northeast Missouri, talks about the rewarding parts of her job and the tragic experience that defined her.
WHERE ARE YOU ORIGINALLY FROM?
I grew up on a farm outside of Fayette, Missouri. I've lived in Columbia for 29 of my 45 years.
WHAT ARE THE THREE WORDS YOUR BEST FRIEND WOULD USE TO DESCRIBE YOU?
I asked three of them — the consensus was dedicated, passionate, and sincere. I would add optimistic.
WHAT DOES IT MEAN TO BE A STRONG WOMAN?
For me, being strong means having utmost confidence in yourself, being unafraid to be who you are and unafraid to stand up for what you believe in. Strength means you face challenges head-on and turn them into opportunities. Strength means learning from your mistakes, knowing you will be better for them. Strength means keeping your faith in dark times and never losing hope. Strength is resilience. Being a strong woman means lifting other women up, encouraging them, and helping them to achieve their full potential.
WHAT ADVICE WOULD YOU GIVE TO A YOUNGER VERSION OF YOU?
Have confidence in yourself, first and foremost. Do not be afraid to take a risk, because otherwise you can't realize a reward. Be unfailing in your kindness to others. Appreciate every single second you have in this life because it can be taken suddenly from you at any time and without your consent. Find and do what brings you joy; then do it often. This is the same advice I give to my son and daughter, who are the strongest young people I know. Maybe my daughter will end up in this article some day!
WHAT'S THE MOST REWARDING PART OF YOUR JOB?
I am honored, humbled, and grateful to lead The Food Bank. I have the best job in the world and I work alongside the best team. Every aspect of this job is helping to improve lives, to offer people in need hope in the form of nourishment. I cannot describe the feeling of satisfaction and joy that offers me. To serve others is the highest calling, and to turn that into a career is the ultimate accomplishment. This job is more than an occupation — it really is a vocation and a way of life for me and my family.
WHAT IS A MOMENT IN YOUR LIFE THAT DEFINED YOU?
My husband of 19 ½ years died in a farming accident four days before Christmas last year. By far that has been my most defining moment. I have learned so much since that day: how to survive losing my rock and best friend; how to do things I never did before and how to do them alone; how to ask for help, which is difficult for me; how to be a single parent; how to get through major life milestones; how to find hope out of darkness; how to reach deep inside and find strength I did not know I had. Tragedy has offered me a completely new perspective on life and how truly precious it is. I refuse to waste a single second of the time I've been given on this Earth, and I have a lot of living left to do. I'm hopeful for the future.
WHAT IS YOUR FAVORITE COCKTAIL?
White wine. Though recently I tried a dirty martini and it was great.
WHAT IS SOMETHING PEOPLE DON'T KNOW ABOUT YOU?
People are surprised when they find out I do not have a high school diploma. I was accepted to Stephens College when I was a sophomore in high school — I enrolled at the age of 16 and transferred to MU after a year, which is where I received my degree.
WHO IS A BUSINESSPERSON YOU ADMIRE AND WHY?
I admire many business people, but I must name three specifically: Michele Spry, Sarah Dubbert, and Shelly DeVore. All three are incredibly accomplished and well-respected in their fields. They actively offer their time and talent in volunteer roles throughout our community and across the state. They are terrific role models for women of all ages. When those three put their heads together, there is nothing that they cannot do — they are an unstoppable force. They also happen to be my Golden Girls, a group that epitomizes the meaning of true friendship for me. Quite simply, they are amazing and my life is better because they're in it.