Day in the Life: Trish Norfleet
photos by Tiffany Schmidt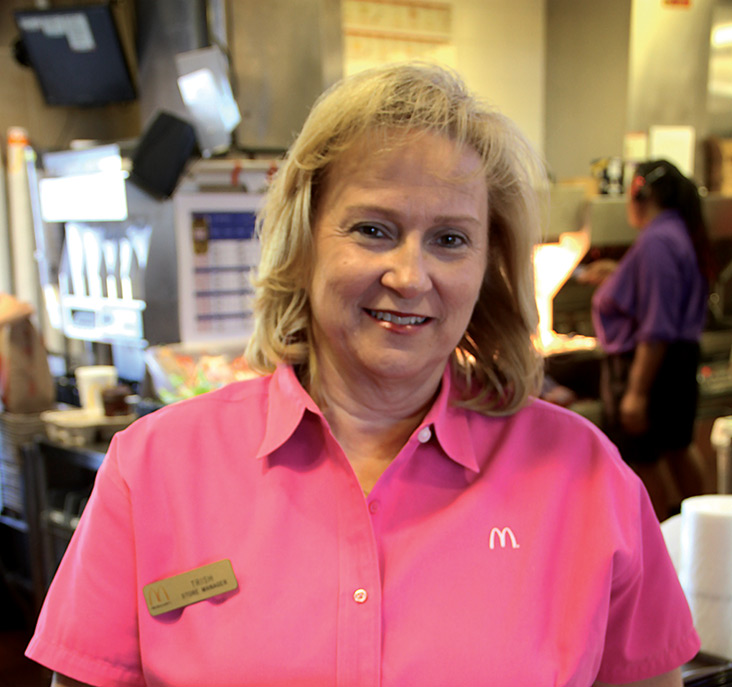 A day in the life of McDonald's manager Trish Norfleet.
Trish Norfleet has a hard time describing the environment she works in every day, even though it's at least a little familiar to just about everyone. "That depends on what day it is," Trish laughs. "Stressful, busy, and high-energy, but very rewarding."
Trish Norfleet has been the general manager at the Stadium McDonald's, owned and operated by Mark and Kate Mehle, for more years than I have fingers to count with. Growing up in Columbia, she started working for McDonald's in 1981. Throughout her professional career, she bounced between locations in and around her hometown, and after graduating from MU in 1988 with her hotel and restaurant management degree in hand, she decided to stay on with the fast food restaurant.
"I stayed because I like the physical job that I do. I like the regular customers, the people I work with, and my boss," Trish explains. "The job itself has been good to us — it's very flexible and stable. There's not a lot of jobs out there that are this flexible."
Not only did McDonald's provide Trish with a steady, comfortable lifestyle, but it also helped her find her true love. Trish met her husband of 25 years, Randy Norfleet, while working at McDonald's 36 years ago. He's currently her supervisor.
After extensively eventful days, it's hard for her to turn off the work switch when she gets home, especially now that her two daughters are out of the house and she's alone with her husband. "We both work for McDonald's, so when we get home there is a lot of work talk, although he is much better at dropping it than I am," Trish playfully confesses.
In her defense, being general manager means Trish is essentially in charge of everything. It entails working weekends, and the Stadium McDonald's is a 24-hour location, which requires Trish to be on call all the time, getting the occasional phone calls at 2:00 a.m. Whether it's organizing the paperwork, running the floor, or handling the ordering and scheduling, it's on her to make sure everything runs smoothly.
"What we general managers like to say is that we are essentially the CEOs of a multimillion dollar corporation," Trish says.
Trish won the Ray Kroc Award — a distinction given to the top one percent of McDonald's managers around the world — in 2011. Although Trish had won the Outstanding Restaurant Manger Award multiple times before, this honor was the most special to her. It included a three-day trip to Chicago, brainstorming conference sessions, and a crystal trophy she could take home. She says it was easily her proudest career achievement.
"I was overwhelmed, but I was also so excited because it was something I had been striving to get," Trish says. "I've been doing this for so long, and it was just the icing on the cake for all the hard work I'd been doing. It was nice to get the recognition."
These rewarding moments on the job certainly outweigh the challenges for her, but part of Trish's daily struggle is overcoming the stigma that people hold for McDonald's employees.
"It has a negative connotation, but this job has provided us with a great lifestyle. We work hard for it. The job is very physically demanding and there are days that I am exhausted when I get home," Trish shares. "But it's a great career for a lot of people."
The best way she knows to combat the stigma is by bringing a positive energy with her every day to work. "I try to make it a positive atmosphere," she says. "I walk in, say good morning to everyone, and tell my staff we're going to do the best we can today. And it works. You just have to stay positive, that's all you can do."
Trish's favorite part about her job is interacting with customers, so feel free to stop in, say hi, order her favorite item on the menu (egg McMuffin), and steal a glimpse into her hectic, gratifying everyday life.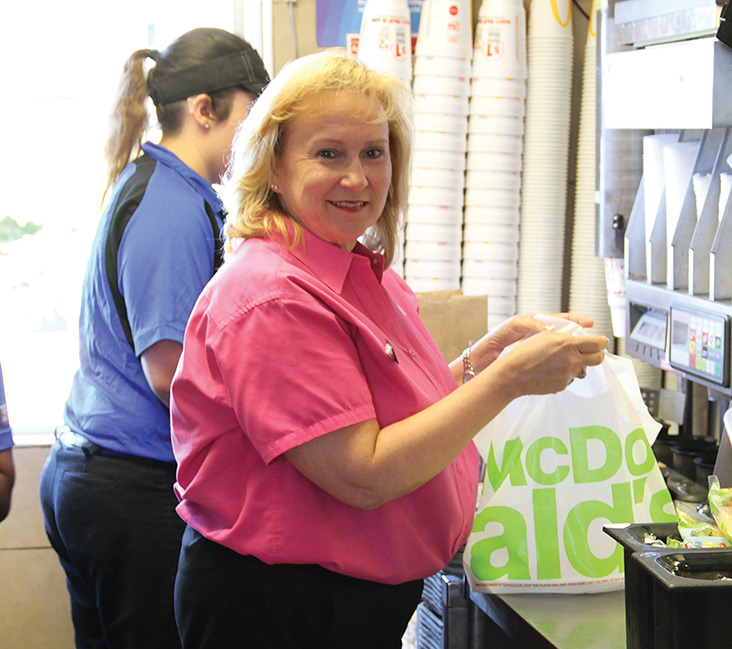 A Typical Day
5:30 a.m.: Trish gets up bright and early!
6:45 a.m.: Trish arrives at work to greet her staff and customers. She talks to her overnight manager to discuss the previous night and her dayside manager to discuss the schedule for the day. She will then make sure everything is ready for the day.
8:00 a.m.: Trish creates a to-do list of things needed to accomplish for the day (payroll, set-up interviews, finish bills, train staff, etc.).
8:30 a.m.-1:30 p.m.: Trish tries to cross as much off on her to-do list as she can, but will usually work the floor or wherever else she's needed. Customer service always comes first. Trish likes to vary which area she works so she can train her staff and interact with customers.
1:30-3:00 p.m.: Trish sits and tries to finish the rest of her to-do list.
3:00 p.m.: Trish talks to the night manager and gets them ready for their upcoming shift.
3:00-5:00 p.m.: Somewhere between these times, Trish leaves work. At home, she tries not to talk about work with her husband.
6:00 p.m.: Trish and Randy eat dinner, watch some TV, and get ready for bed. (Unless it's MU basketball or football season — then you'll catch them at the games!)