A Conversation with Fashion Designer Zandra Rhodes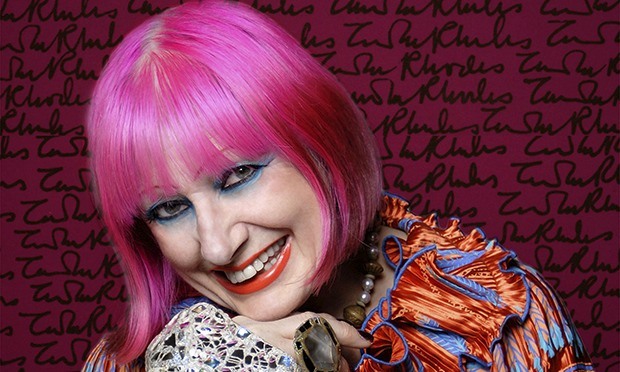 The Jeannene Booher Lecture Series was announced at the beginning of Stephens College's 2016 school year. Jeannene, a celebrated Stephens alumna and former partner and designer for Maggie London, had given the school a million-dollar gift to bring in fashion industry professionals and provide students with real world connections and advice.
The lecture series first brought in Marylou Luther, renowned trend forecaster and fashion insider; in December; four months later, designer and patternmaker Zandra Rhodes visited Stephens, giving a lecture outlining her successes, high points and learning experiences throughout her prolific career.
Zandra gathers much of her inspiration through travel, her favorite place being India — it served as the inspiration for her ornate costumes and set design in "Pearl Fishers," an opera that toured across the country from 2004 to 2005. Her travels were a theme in her work throughout the 1970s and '80s, but fresh eyes on her work from Stephens students raised critical eyebrows around campus.
"At Stephens, we have a culture of awareness," says Aja Depass, a Stephens student. "So when I saw her pieces inspired by the American Southwest and Native American culture, I was hesitant."
Many designers have come under fire for cultural appropriation in the last few years. Givenchy's fall 2015 line was titled "Victorian Cholas," partially adopting a term and fashion created by and for Latinas. The name alone was enough to make blood boil, but the slicked hair and piercings sported by white models further incited backlash. Likewise, during Marc Jacobs' spring 2017 show, white models wore faux pastel dreadlocks, which ended up being the main headline of the show rather than the bright and ornate styles. In an industry that has never been hesitant about pushing boundaries, it seems that fashion now has to be careful. The question is: How do designers toe the line between offense and success?
"My travels give me inspiration," Zandra says. "I drew what I saw and came up with a collection that was my interpretation of that. If I was to have taken it in a direct sense, then it could be labeled appropriation. Provided someone looks at a culture, takes from it, and regurgitates it as their own, they make a new look. If they've taken it and regurgitated it properly, then I feel that they've done nothing wrong. But if you take it, and you don't do anything different and just shove it out on the runway, then what are you actually doing? You aren't even designing."
One of Zandra's passions outside of designing is education, particularly within the arts. Zandra herself has a background in education, teaching textiles and design at various universities in England in the '60s and '70s. "The saddest thing in America is how anything that isn't considered 'science' isn't given room in curriculum. I just think it is rather sad that all forms of art and fashion in America come up short," she says.
To combat the lack of fashion education, Zandra opened the Fashion and Textile Museum in London, as well as a fashion exhibit catered to children in San Diego. She saw her lecture and meetings with Stephens students as a way to extend her passion for young getting young people to learn the intricacies of the wild fashion world.
"I hope people remember and learn from my work, and that it contributed to the vocabulary of fashion and textiles," Zandra shares. "I also hope young people learn that to make it in fashion, you must be persistent in the pursuit of your individuality."