Home » What's Going on in There? COMO's Mysterious Buildings
What's Going on in There? COMO's Mysterious Buildings
photos by Alexanderia Rinehart and Matt Patston

You know how it makes you crazy when you drive by a building in Columbia and have no idea what it's used for? CBT took to the streets to dig up history on some such buildings around town.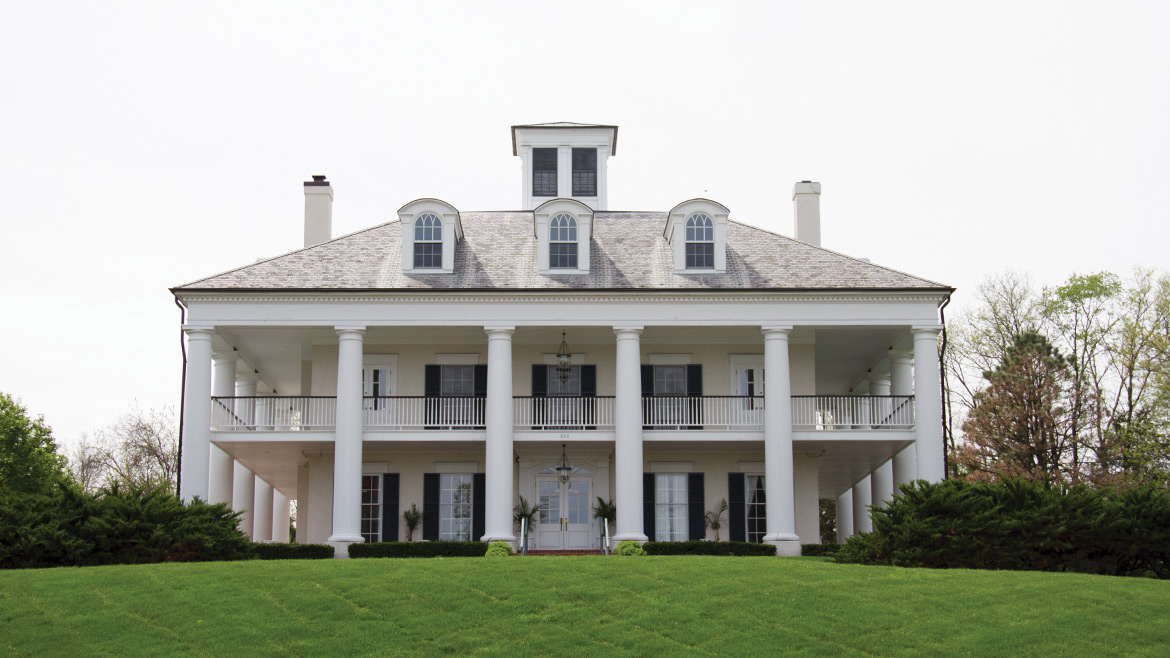 Hawthorne Educational Services
800 Gray Oak Dr.
Driving through Columbia, you can spot examples of architectural beauty throughout our town, both subtle and direct. This mysterious building is both.
Removed from the busy streets, hidden behind buildings and tall trees, it can be easily missed from the major roadways. But venturing down Gray Oak Drive will bring the estate steadily into view, and it will captivate you.
Atop a grassy knoll lies the plantation-style manor, with a long driveway that snakes up towards the entrance of the property. The white, two-story building is supported by enormous columns and boasts a wraparound porch, neatly trimmed landscaping, and some fine construction. Although this colossal house exudes an air of maturity, the estate was, surprisingly, only built in the early '90s. At over 14,000 square feet (including a basement, two main stories, and a mezzanine), the manor sits on 3 acres of land.
When driving by, I wouldn't have been surprised to see women in long dresses and bonnets fanning themselves on the porch — this looks like something you'd find in the historic districts of the American South, not looming behind a Kohl's in the middle of the Midwest. The estate, while breathtaking, seems out-of-place and a little awkward, given it's surrounded by corporate offices and shopping centers.
Nevertheless, the property has accrued many admirers since its construction 26 years ago.
Currently, the building is occupied by Hawthorne Educational Services — according to its website, this company "develops, publishes and markets educational materials to public and private schools." The publishing company concentrates on printing materials primarily for students with special needs.
Rumor has it the estate includes quarters in which authors could live in-residence for a short period of time while working on books.
The Boone County Assessor's office says that the original landowner retained the property for a long time before the land was bought and developed on by Stephen McCarney in 1991. Chief Appraiser Kenny Mohr explains that, like most people, he's "honestly not really sure what the place is, but [the auditor's office] values it as a commercial structure."
With its attractive architecture and air of anonymity, it's no surprise it has drawn such curiosity.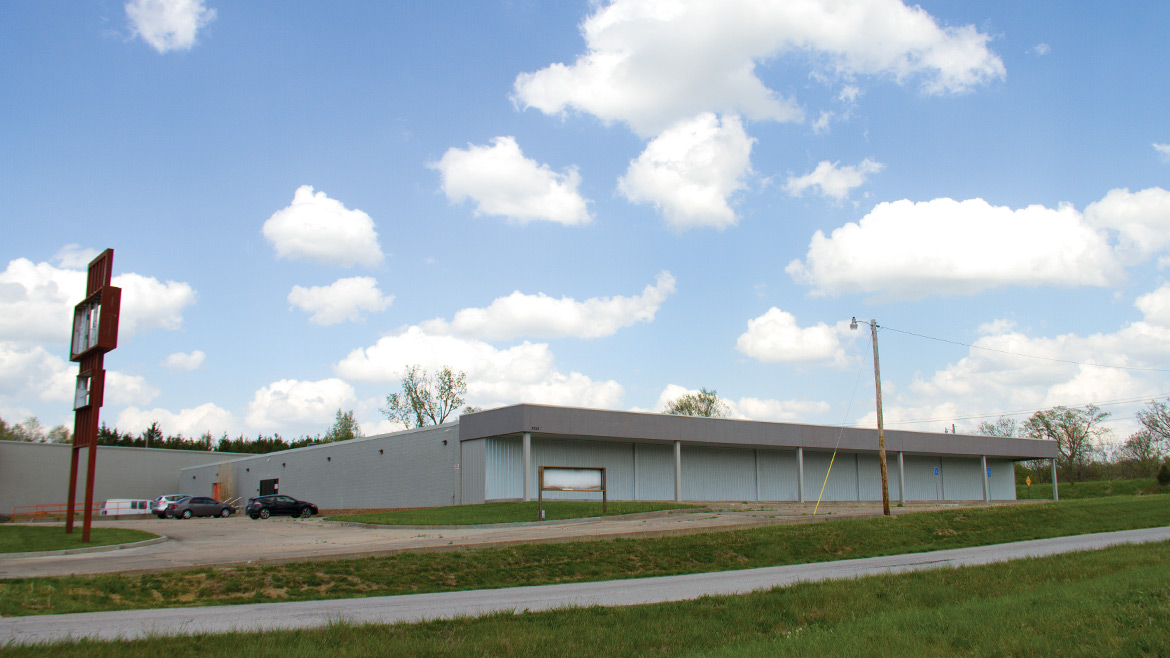 University of Missouri Libraries Depository Unit 2
6215 W. Cunningham Dr.
If you regularly wander out of Columbia on westbound I-70, you've seen places like Larry's Boots & Western Wear and the Midway Expo Center hanging around exit 121. But what you probably didn't see — or, if you did, you hardly noticed — was a small, isolated building on the  north outer road.
Detached from civilization, "DEAD END" roadway signs stand near the building's gravel-road entrance. The building itself seems generally unoccupied, with few cars in the parking lot. Even though it's in full view of the highway, it feels secluded.
The white-gray building displays no exterior signs or indicators of what's inside, just the small business description taped to the front door. And for those interested in discovering where MU Libraries stashes all their extra books, no need to look further.
After space ran out in their main off-site storage depository, the university searched elsewhere to house the overflow of materials. They initially found another location, but a mold outbreak that ruined over 600,000 university books required a new site to be found immediately — and they stumbled upon this storage facility.
The university leased this property, owned by D&D Investments of Columbia, in July of 2014. The depository, surrounded by trees and grass fields, is on approximately 3 acres of land.
Constructed in 1973, this building was previously a Rust & Martin interior design showroom that closed around 2004. Now, the warehouse stores extra journals, volumes, and books from all UM libraries.
So next time you're heading to sight-see with the family in Kansas City or embarking on a gambling getaway in Boonville, keep a scholarly eye out.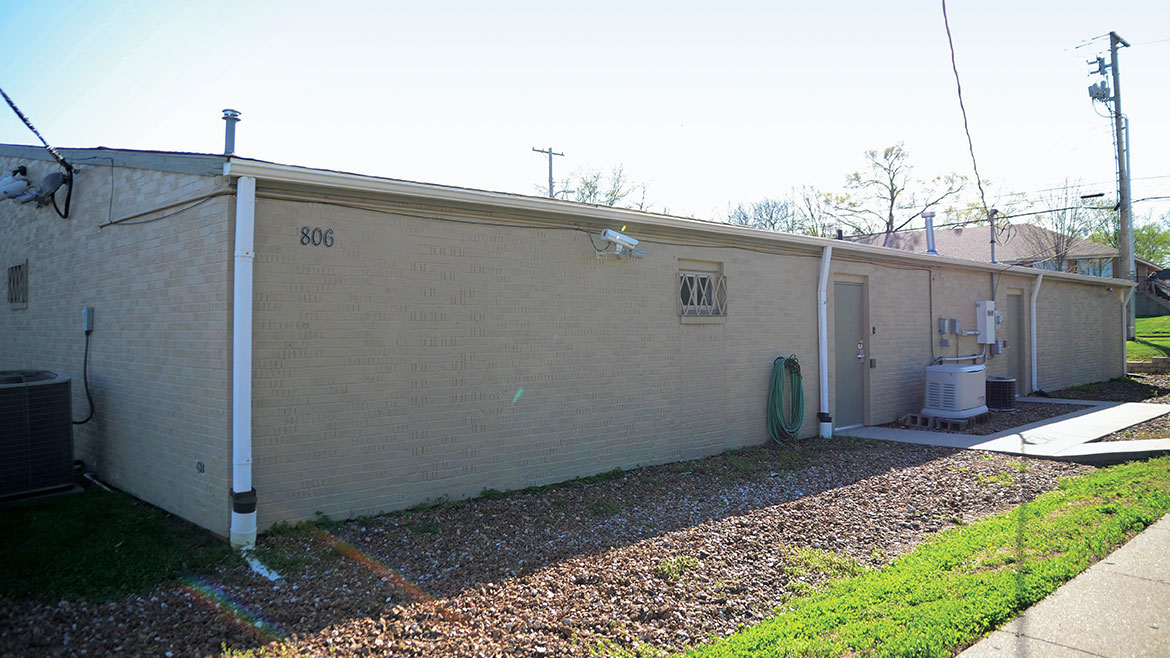 Alarm Communications Center Inc.
806 N. Providence Rd.
When you're driving down Providence Road, the building at 806 N. Providence looks like a concrete block, comparable to a large, lonely storage unit, perhaps. It's in a dense area of town — near Hickman High School and the Douglass Park neighborhood — so it can be easy to overlook. There's no business sign on the building. There's only the street address number, 806, on the street-facing side. The building has a few small windows. The main decorative feature is, fittingly, a series of exterior security cameras.
Even though the outside of the building is simple and unassuming, the inside is anything but. The blockish building operates as a 24/7 central monitoring station for Alarm Communications Center Inc., a local security company. According to their website, ACC is locally owned and was established in 1969. The company offers security systems for both home and business, including intrusion alarms, fire alarms, video systems, personal emergency alarms, and access control. ACC has been using the building since 2000.
ACC's monitoring station has moved around quite a bit since the company opened in the late '60s. The original station, back when ACC only provided home and business burglar alarms, was downtown, on Eighth and Broadway. In the early '70s, ACC moved to the Virginia Building, then known as the Strollway Center, a few blocks away. That building now houses such businesses as Craft Beer Cellar, Top Ten Wines, and Tiger Spirit.
The setup in the oddly-shaped, cream-colored building is fairy unusual for a security systems company. ACC's website states "ACC is the only security company in Central Missouri offering local security system monitoring," as most companies operate their monitoring system from out of town. ACC's operation, while maybe not downtown anymore, is still overlooked in the heart of the city.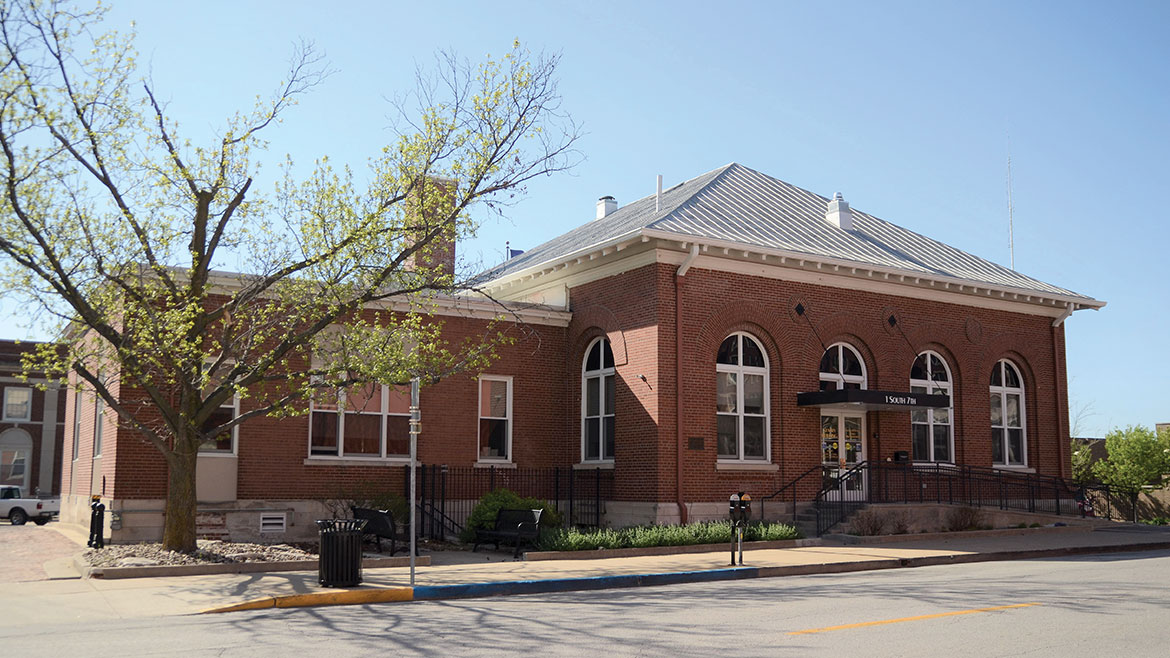 Columbia Parks and Recreation
1 S. Seventh St.
On the corner of Seventh Street and Broadway is a red brick building with a long history of resourceful occupants. For the past 111 years, the building in downtown Columbia has been home to various services that help keep the city running.
Today, the historically preserved building houses Columbia Parks and Recreation and the city's risk management division. "We have a lot of walk-in traffic here — a lot of people who are signing up for classes or registering for leagues or reserving a shelter will come in here to do business" says Tammy Miller, public information specialist for Columbia Parks and Recreation. "Some people see us as kind of the face of parks and rec."
Built as a post office in 1906, the building was sold to the City of Columbia in 1936, the city's website says. Two years later, books replaced mail and the former post office became Columbia Public Library. The building has since served as the operating base, at various times, for the City's water and light department, parks and recreation, human resources, volunteer services, and cultural affairs.
The site has been known as the Gentry Building since October 29, 1977, when the former post office was dedicated in honor of Ann Hawkins Gentry. Gentry was appointed as the second woman postmaster in the country in 1838, and she served as Columbia's postmistress until 1865.
Miller says a lot of people come to the Gentry Building looking for a certain statue — a replica of the Statue of Liberty, gifted to Columbia by a local Boy Scout troop in 1950. The eight-foot statue was part of a national Boy Scouts 40th anniversary campaign called "Strengthen the Arm of Liberty." The statue was rededicated on July 4, 1986, in honor of the original Statue of Liberty's 100th anniversary, and moved from Howard Municipal Building to outside of the Gentry Building. The statue was moved inside the lobby in 2007 to protect it from the weather.
In 2006, the Gentry Building went through renovations as part of the City's plan to refresh its downtown properties. While the renovations took steps toward modernizing the building, the city was careful to reflect "the old character of the building with high ceilings and different architecture elements that are kind of a throwback to what it used to be," Miller says.
As much of downtown Columbia fills with new infrastructure, the Gentry Building continues to diligently serve the city, as it has for 111 years.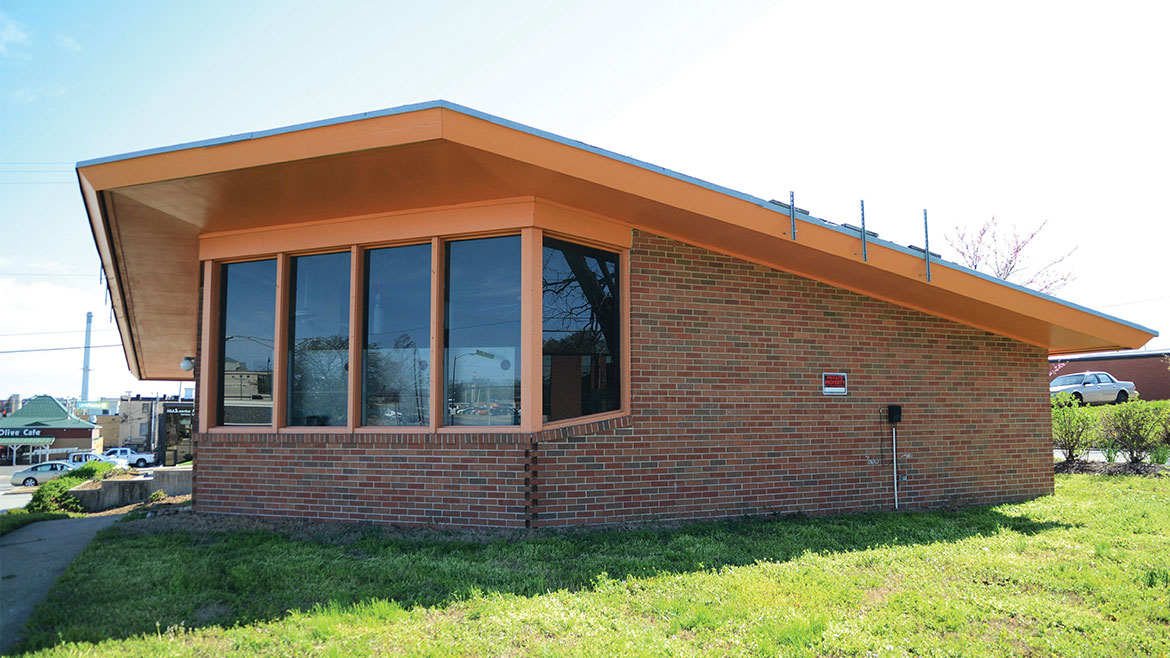 Central Bank of Boone County
115 N. Providence Rd.
There was a time the red-orange brick building located at 115 N. Providence sported a red and green sign for Ambrosia Flowers, a locally owned flower shop. Today, the small building — which still looks fresh out of the '50s — has slightly different signage. The small, black signs hanging in the windows announce, in bold red letters, "PRIVATE PROPERTY."
Mysterious as the small building atop a small hill in the middle of the city seems, don't hold your breath for a glamorous tale of what exactly goes on inside — mainly because the answer is nothing. It's owned by Central Bank of Boone County, which has a branch on the adjacent lot, but as of now it's not being used for anything.
"We really haven't decided what we're going to do with the property," says Mary Wilkerson, senior vice president of marketing at the bank. "The building is in pretty bad shape, so it's probably not rentable at this point."
Central Bank bought the property at 115 N. Providence in February 2015, but the spot has been home to several different occupants and businesses. According to reporting from the Columbia Daily Tribune, a woman named Ruth Doby Wiggins lived at 115 N. Providence Road with her husband until the early '60s. When the Wiggins family moved their home, they left an office building in its place. In 2000, Eliot and Muriel Battle purchased the property — about a third of an acre — at which time the building was being used by an insurance agent. In 2010, Ambrosia Flowers moved into the 1,125-square-foot building, operating there until the store's closing in February 2014.
Central Bank, which shares an alleyway with the property, saw opportunity in the neighboring building when Ambrosia Flowers closed. "We had the opportunity to buy the property, and with it being right next to our motor bank, we thought that would be a wise decision," Wilkerson says. "We've always wanted to improve some of the access to the bank from Ash Street."
The future is uncertain for 115 N. Providence. Wilkerson says there is not yet a plan for the property, but selling it is always a possibility. "Right now it's just a piece of property that we own, and eventually we'll figure out what we want to do with it," Wilkerson says. "It might be a park — who knows?"
For now, the vacant building just sits on a small hill of green grass, waiting for whatever comes next.