Still Reading: Vicki Russell's Post-Tribune Life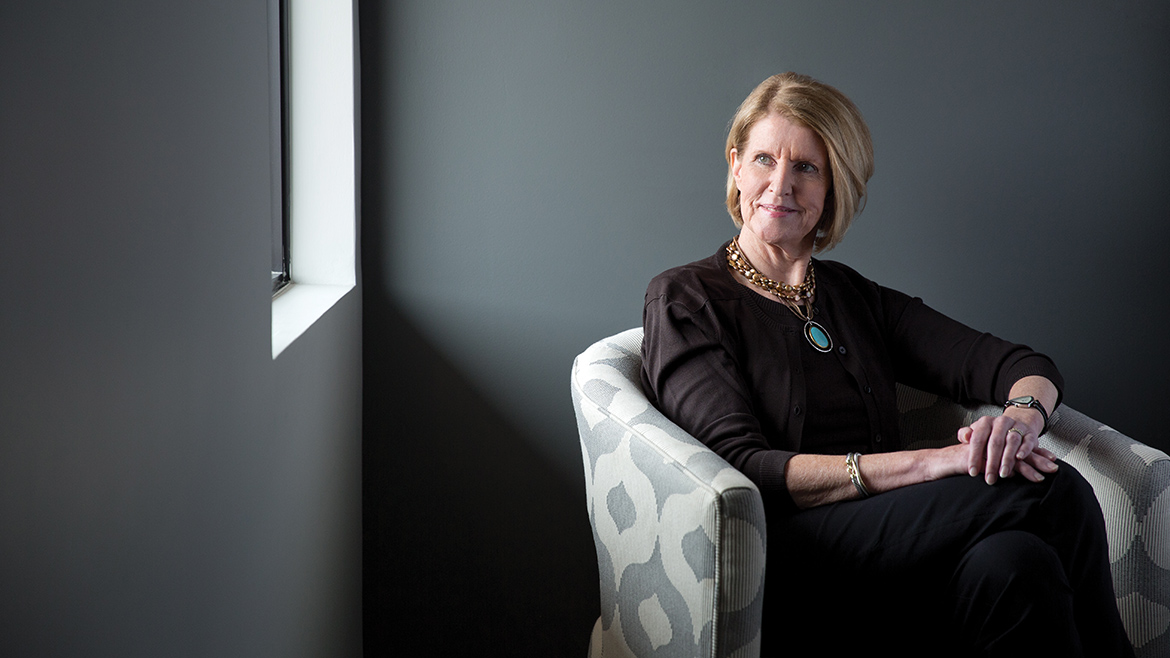 The day of our interview is also the first morning delivery of the Columbia Daily Tribune. Vicki Russell sits in the Waters family's new office on Walnut, flipping through the weekday morning paper for the first time.
For the past six months, she's looked through the Tribune from a different perspective. When the Waters family sold one of the last family-owned daily newspapers in the country — and Tribune Publishing Co. along with it — to GateHouse Media, Russell left her career in journalism and publishing. Some things have changed about how she reads the paper (she no longer checks for advertising numbers, for example). But mostly, she'll still look at it each day through the same lens.
"I probably will read it the same way I always have, because part of my job was to look at what we were producing and question it and try to see ways to make it better," Russell says. "So that part won't change. I think that's a healthy way for anyone to look at their newspaper."
Their new office sits just on the west side of Providence, across from the Tribune building, less than a half mile down Walnut. Though it's not too far away from her old office, it certainly is a major life change for the former publisher of the paper.
Russell is adaptable to change; she's had a career full of changes in media. She went home from the MU journalism school the summer between her senior year and graduate school, and during that summer, the newspaper she was working for, the Columbia Missourian, switched to cold-type style (which replaced hot type, a method of printing that used hot molten lead to print the paper). Since those system changes, it's been a pretty constant string of disruptions in technology and media practices. Part of her role as journalist and publisher was to report on the constant change of different industries, social norms, and the city itself. Why would her industry be immune to that change?
"Part of me has always thought, 'Whatever the change is, I'm going to figure out my way,'" Russell says. "I don't spend much time wringing my hands."
Luckiest Person on Earth
Russell always had a penchant for writing, even as a young girl growing up in Chillicothe, Missouri. She was also a regular reader of the local newspaper, The Chillicothe Constitution Tribune (now also a GateHouse Media property). On a college visit at MU, she and her friends inadvertently parked next to the journalism school, and someone offered her a tour. She was immediately hooked.
"I feel like one of the luckiest people on earth," she says. "They always say, 'Look for a job you love,' and I felt comfortable and excited by that environment from day one. I've never regretted it for one moment."
She spent three years in graduate school working at the Missourian, went on to serve as publisher of the Fulton Sun, which the Tribune owned at the time, and eventually made it back to Columbia, serving as associate publisher from 1990 through 2010 before taking over as publisher in place of husband Hank Waters, who became publisher emeritus.
Though she enjoyed her days reporting, publisher was her favorite role. "It kind of mirrored my early experiences in the newspaper business in terms of getting to see and understand the whole operation," Russell says. "I got to exercise my brain in a lot of different ways."
Like Losing an Arm
The Waters family started seriously discussing sale of the Tribune and Tribune Publishing Co. in April 2016. They accepted an offer from GateHouse in early August and the finalized the sale October 1.
"We had to weigh everything: what would be good for the newspaper in the long run, what would be good for employees, what would be good for the community, and ultimately, we believed that the decision we made met those criteria as best we could," Russell says.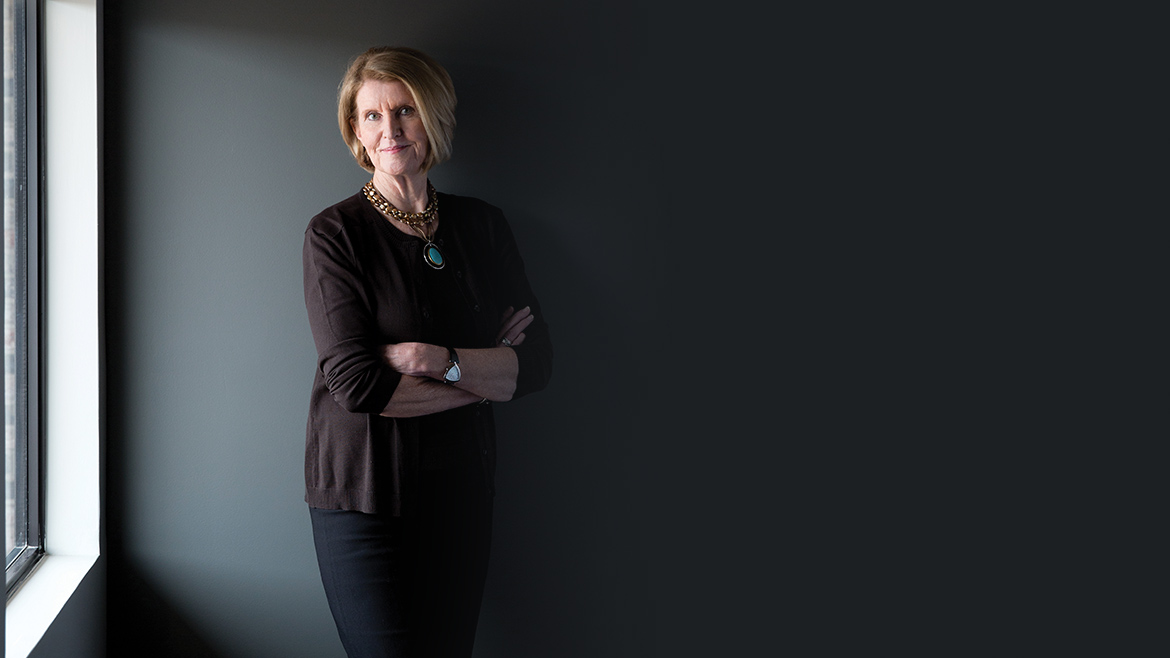 For the record, Russell says the transition to a morning paper would have been inevitable even if the Waters family had retained ownership. Columbia's afternoon traffic was making it increasingly difficult to get papers delivered in a reasonable time, and they'd pushed back deadlines as far as they could without losing out on news in the paper.
"Ultimately, as is the case for any family-owned business, you would want things to go on the way they have always been, and any family that goes through that agrees it's like ripping off your arm [to make changes]," she says.
She and the family dreaded telling the employees about the sale. Russell says she'll remember the moment as the proudest she'd been of the Tribune staff — they absorbed the news like professionals. There was shock, surprise, and questions, but the newspaper made it to press on time. Beyond the newsroom, she's received broad support from the community.
"I'll be honest and say more than a few people have been concerned about what will happen," Russell says. "We don't know how to answer that, but it's ultimately been a big outpouring of love from people who have thanked us and told us how much they love the Tribune and said how important it is to them."
GateHouse Media has 259 reviews on glassdoor.com, a popular employer review site, and a rating of 2.1 out of 5 stars. Review headlines include "welcome to your personal purgatory" and "Once had great vision but lost it along with much talent."
GateHouse Media owns more than 600 publications, including 121 daily newspapers.
Broccoli Too
According to Pew Research Center's 2016 report on the media, weekday circulation for newspapers fell seven percent in 2015 and Sunday circulation fell four percent. Advertising revenue fell almost eight percent in 2015 from the year before, and there are 126 fewer daily newspapers in 2014 than ten years prior.
After fighting in the trenches of the newspaper business for so many years, Russell can now offer a clear-eyed assessment of the industry. To her — and, she hopes, to most people — a town's paper is more than just a local business.
"If all newspapers went away, it would be very unlikely that there would be enough citizen journalists with the skill set to serve that purpose," Russell says. "I see newspapers and communities in a very important partnership with each other. Subscribing to a local newspaper certainly gives you the right to want to hold that newspaper accountable, but it also is a citizen's investment in independent scrutiny to help ensure good government on many levels."
The citizen's obligation in that partnership is to commit to reading about the difficult subjects along with the fun ones.
"I know adults who are businesspeople actively involved in the community who, when I ask them about their habits when reading on a device, will secretly confess that they are reading stories they want to read because they're about a topic that interests them," Russell says. "But they're missing the kind of stories that they need to be reading to be good citizens."
It's about reading multiple sources, she says, to be informed — getting the dessert but not forgetting the important, issue-driven information. "We need to consume the broccoli too," she says.
Stereotyping and grandiose criticism of "the media" has led some people to believe that no one in the news business is doing a good job. Russell doesn't believe that. She believes that to be good citizens, it's important to consume opposing opinions, looking beyond party lines or ideological beliefs.
"I don't think it's a healthy thing in this country when we segment ourselves so that we're only living in what we call the 'echo chamber,'" she says. Consuming info with which someone agrees even though it is not accurate isn't a healthy way to consume media.
To Never Retiring
Russell's first goal in her post-Trib life is to stay engaged on her boards and in the community. She serves as Stephens College Board of Trustees chair, vice chair for the corporate board of The Callaway Bank, member of the Sharp End Heritage Committee, and chair of the board for the Missouri Press Foundation, a statewide organization that provides education for newspaper employees and support for the Missouri Press Association. Those activities have allowed her to stay engaged with the community.
Russell doesn't really consider herself retired. She's getting settled in her office, tending to housekeeping items. And then? "We'll see."
She's been asked many times when she'll retire. But as a person who's been constantly motivated by projects and deadlines, it's important for her to keep going. She says, "I can see myself creeping into my office with my walker when I'm 97 years old, and by that point you can just annoy everyone else and get away with it."
Russell says it's been "kind of fun" to experience the Tribune from a different perspective. She wants it to thrive. She also feels less restraint, like she now has the ability to react to the news without wearing her publisher's hat, the ability to react as a citizen and express her opinion. And she supposes she'd call up her former colleagues if she felt something "was amiss," she says. "An important thing for people to remember is that if they feel like their newspaper should be doing something to make it better, most newspapers want to hear that."
She's looking forward to new adventures in the future: golfing with friends, traveling out of town at a moment's notice. But there's one thing that will not change.
"Things are so interesting in our state and in our country," she says. "Just from a personal perspective, I think we need newspapers now more than we ever have. I will keep reading them."
Vicki Russell: Quoted
On adapting to change
"I think the thing that helps everyone is to look at not just the big picture, but the incremental changes. I think people fear change because they see it as a nuclear bomb going off, when in fact, if they look at the pieces and parts of it, it becomes more digestible."
On shaking off some of the harsher Trib Talk comments
"You definitely over time grow a pretty thick skin. The challenging part is that when you're getting criticism, whether it be personal or about the way the company does things, is to be able to see if you can find another truth in it. Am I not liking this because it is mean and unfair, or am I not liking this because maybe I should do something differently? And if you can accept legitimate criticism and do something about it, then that takes the sting away. After a while, if it's just recreational criticism, you move on."
On building her personal brand 
"I think what I have always tried to do is be credible and fair and keep my commitments. So I think people believe me when I tell them something. I will always try to be a bridge builder."