Be a Tourist in Your Own Town
photo by Alexanderia Rinehart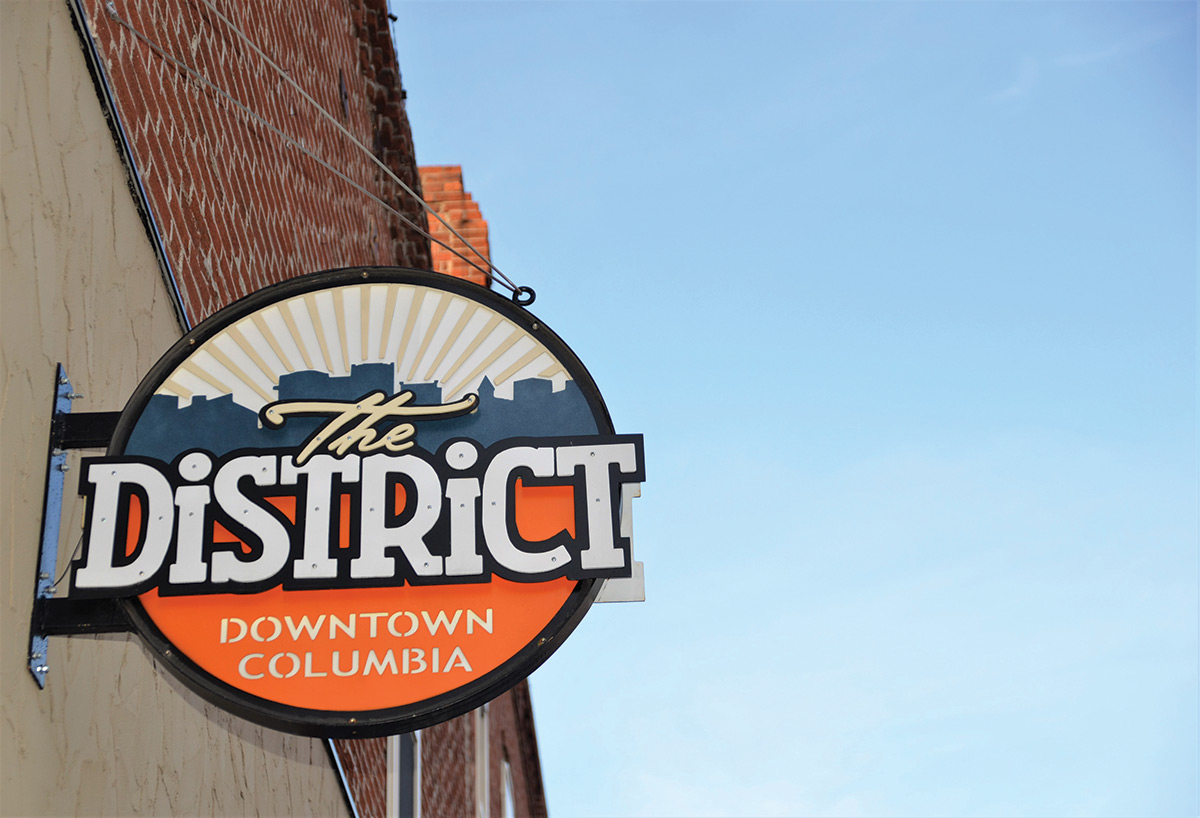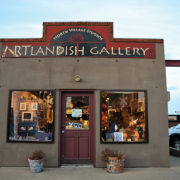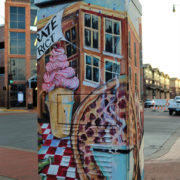 View Gallery
Take a day to wander.
Most townies can remember when Cool Stuff was on Broadway, when the downtown Shakespeare's was the only Shakespeare's, and when the tallest building in Columbia wasn't a parking garage. The District has been through drastic changes in the last five years — apartments are on the rise, parking options and payment methods have changed, and favorite businesses have come, gone, and even come back again.
"We've had quite an increase in downtown living with several new residential apartment-type buildings, and that has brought a lot more people and a lot more activity," says Katie Essing, executive director of The District. "The retail landscape has gone to mixed-use developments, where people are living and working and having entertainment options."
That sounds a lot like the downtown Columbia of 2017 and beyond — residential space on the top with new retail and restaurants on the bottom, even though you may be sticking to your same three favorites that have been around forever.
"There's a lot more variety in the restaurants than people first think of," says Megan McConachie, strategic communications director for the Columbia Convention and Visitors Bureau. "The District has become a destination in itself; it's an experience that really shouldn't be taken for granted."
And if you're a lifelong Columbian — if you feel like you've done everything there is to do — try being a tourist downtown for a day. Go places you've never been. Here's what you might find.
Essing has directed other shopping centers before, but none quite like The District: 50 square blocks of shopping, restaurants, and entertainment.
"When you choose downtown, you also are getting a very artistic community," Essing says. The North Village Arts District houses galleries, film companies, dance and yoga studios, a music school, and a theater. "Then, even as you extend throughout downtown, you've got the Columbia Art League, Missouri Theater, Bluestem — you know, there's a variety of places that you can just enjoy and see and be part of that artistic community," Essing says. "Even from a film perspective, you've got Ragtag where you can see independent, different films, and that's what's unique about downtown."
Essing also considers the Talking Horse Theater a "hidden treasure"— where patrons can watch local actors and then visit DogMaster Distillery next door.
The District's daytime economy is supported by employees from the City and Boone County, the downtown banks and business headquarters, and shopping, while the nightlife is supported by live music, restaurants, clubs, and bars.
"Downtown is very local," Essing says. "The majority of our businesses are local and unique to Columbia, and I think that makes it a really special kind of environment. Also, it has really passionate business owners that communicate with each other. It's just a really close network."
Gidget's Garage owner Kim Daus is one of these passionate business owners. Along with her husband, Craig Daus, she sells handmade jewelry, notecards, cigar-box guitars, and more out of her quirky retail space in Alley A.
"I don't necessarily think about who I'm trying to attract," she says. "I think what's worked best for me is just selling what I like. I think that if you really like the product you're selling, then you'll be more successful."
Daus says she feels a sense of community downtown, especially during events like Artrageous Weekend and Living Windows. "It's kind of like we're all in summer camp together," she says. "It's a really good feeling to know that everybody's out supporting each other."
She also says the number of locally-owned shops is a unique way for Columbians to give back to the community: "That's going to help downtown grow and prosper. For some reason I feel like, with all of Columbia, there's different little pockets, and downtown is its own little pocket."
Downtown adventures for the…
Bookworm
Stop at the Columbia Public Library (Broadway) on the way downtown to check out a few books. Visit Yellow Dog Bookshop (Ninth Street) downtown to find a pre-loved fiction adventure or two, and you can sell or trade some of your old favorites. Take your books to read in Shortwave Coffee, a hideaway in Alley A. And whether you're a longtime fan or you're just looking for a new type of story, check out Rock Bottom Comics (Walnut).
Tip: Mark the weekend of April 21 to check out the Unbound Book Festival on the Stephens College campus.
Athlete
Bike downtown via the MKT Trail — The District has over 150 bike racks, and there are bike corrals on South Ninth and in the Arts District. Grab a healthy lunch at Main Squeeze or Ingredient (both on Ninth), or Nourish Café (E. Broadway). Shop for new gear at Ultramax Sports or The Alpine Shop. You can purchase a membership at the Wilson's Fitness location in North Village, or you can opt for a run outside. Cool down with yoga at Alley Cat or Yoga Sol. If you need any groceries, stop by the Root Cellar (North Village) for local fresh produce and meat.
Tip: If you like road races, the St. Patrick's Day 5K takes place downtown.
Old Soul
Do some vintage shopping at Maude Vintage or Absolute Vintage (Broadway), New Beginning Consignment Clothing (Tenth), or Leo's Old Clothes (Ninth). Visit the State Historical Society in Ellis Library (on the campus stretch of Hitt), or schedule a visit to the recently restored Blind Boone Home (N. Fourth). Visit the historical Wabash Bus Station in North Village; the David Spear paintings next to the original train ticket windows depict the history of the station. At night, travel back in time and visit Columbia's speakeasy-themed lounge, The Social Room (Eighth).
Tip: The Social Room doubles as a hair salon. You'll need a password, so follow their social media, ask around, or complete a fun task to get in.
Artist
The North Village Arts District's nearly 10 galleries are great places for viewing and purchasing art. There are also handmade items at Poppy, Route, Gidget's Garage, and Bluestem on the other side of downtown. While you're there, visit the Columbia Art League gallery and La Feria gallery in Alley A. For a hands-on experience, create your own art at The Canvas on Broadway, Confetti Craft Co., The Mud Room, or Wildy's World Mural Makers.
Tip: First Fridays in North Village are a great way to visit galleries during the evenings, and they often include activities for kids.
Movie Buff
The True/False Weekend (March 2 through 5 this year) is the best time to catch films downtown, but Ragtag shows indies every day. The recently closed 9th Street Video (may it rest in peace) was the place to find movie rentals for many years — but if you ask the gang around Ragtag, they'll give you a few great movies to find online.
Tip: The Citizen Jane Film Festival, which features independent films by women, takes place in Columbia October 26 through 29 this year.
Musician
Visit Hitt Records, Slackers, and Vinyl Renaissance to peruse through albums old and new. Find one of the painted pianos outside and play a tune. Check out the cigar-box guitars and ukuleles at Gidget's Garage. See a concert at The Blue Note, Rose Music Hall, Café Berlin, or the Missouri Theater.
Tip: One of the hallmarks of The District is the live music. If you're not into larger music halls, try Nash Vegas or Broadway Brewery. Or just hang out on the sidewalk and wait for a busker to show up.
Alleys, Alleys, Alleys
Go in them. They have shops, restaurants, and art galleries. Alley A is located between Ninth and Tenth Streets.
"It's kind of a cool example when you've got a full downtown, and you know there's more that could be had," Kim Daus says. "You know, you do something like this with an alley. You flip it inside out."
The alley now houses Shortwave Coffee, Kampai sushi, La Feria art gallery, Good Nature, and Gidget's Garage. Other spots to check out in the alleys are Craft Beer Cellar and Günter Hans.
Daus, owner of Gidget's Garage, says the alley allows her to attract customers in a different way. "The alley gives us, as a small business, an opportunity," she says. "If we want to promote the store, we can have live music. It's a nice little refuge for customers to walk around without traffic. We can put chairs out. We kind of feel like we can do what we want in the alley."
Daus says most Gidget's Garage customers find the store by just wandering in. "I do think a lot of my customers are university staff that have the ability to just walk around downtown, and out-of-towners are actually my best customers," she says. "Those are the people that have the time to meander and find the alley."
The Parking Situation
Parallel parking is the worst, especially if it gives you flashbacks to your driver's license test and you've avoided it ever since. Here's a refresher for all of us: choose a spot with lots of room in the front and the back. Pull your car in front of the space. Stop. Put the car in reverse. Cut the wheel. Cut it! Cut it more!!! Then, slowly, very slowly, ease into the back corner of the space. (Are you having flashbacks yet?)
Have no fear: parallel parking is not the only option. There are garages downtown at Eighth and Walnut, Eighth and Cherry, Sixth and Cherry, Tenth and Cherry, Fifth and Walnut, and Short Street, and the cost to park in a garage is less than street parking. On Saturday, Sunday, and on weekdays past 6 p.m., parking is free in garages. There is no time limit for parking in a garage, unlike some meters downtown. There are also 10-hour meters on the edges of downtown for those who will be in The District all day.
"I think one of the big things that we're working on as a community is parking downtown," says Essing. "You know, you still can find parking pretty easily, but it is a concern that we hear from a lot of folks as something that needs to be addressed."
Essing says the City works closely with The District on parking solutions. New meters were installed in January that have COMO Park card capability. COMO Park cards are prepaid cards that can be inserted into the meter to charge for the exact amount of time parked. They can be obtained and loaded on the third floor of City Hall. Downtown parking can also be paid for via Parkmobile, an app the City uses.
"The growth of downtown is something that we're constantly monitoring, and we're trying to meet the demands of what that growth entails," City of Columbia parking director Tanner Morrell says. "Whether it's credit card capability or smartphone app capability, we're always trying to meet the demands of technology." Morrell says these options are great for downtown businesses to provide for their employees, or for students who live or visit downtown. Coin payment will continue to be an option as well.
Morrell says the city is also hoping to add automated systems in the garages to better monitor the occupancy, demand, and peak hours. He, like Essing, believes that people shouldn't shy away from downtown for fear of parking.
"There's a stigma about coming downtown that parking's not going to be available, and I understand that it's frustrating when you're going to the bank or out to eat or to a show, but there's usually parking within half a block of wherever you want to go," Morrell says.
Don't let parking stop you from making the trip downtown. You may have to walk a bit to get where you're going, but on that walk, you might wander into a shop you've never seen before.