Midwest Wedding Crashers: The Magic behind Little Piney
photo By Catherine Rhodes Photography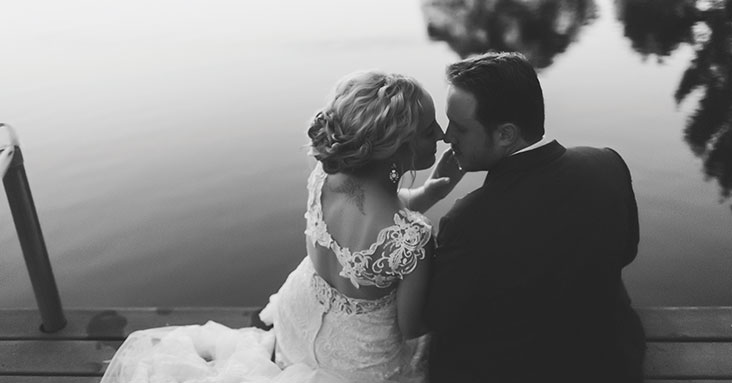 It used to be a tradition that the women of the church would gather together to put on a wedding. From the flowers to the food, everything came together with their help. I love this idea: people rallying behind a young couple and helping their big day become a reality. When we crashed Ben Lake and Rhiannon Galloway's wedding, we were taken back to this tradition in a magical way.
Rhiannon had prepared months in advance and chose some top-notch vendors to make her big day come together. Her venue was a beautiful estate tucked away in the outskirts of Hermann called Little Piney. She wanted her special moments captured by one of the best photographers in the mid-Missouri area, Catherine Rhodes. She hired an incredible wedding planner at BHive Events to coordinate her day. Rhiannon had the perfect centerpieces picked out and had planned to arrive early the day before the wedding to set it all up. She had every detail planned out.
But sometimes it's the unexpected events in our life that help us realize we need a village of friends, family, and even vendors to make the sweet moments even sweeter. Rhiannon was unable to come early the day before her wedding, and she was behind schedule in getting all of her decorations and centerpieces together. So, after the wedding rehearsal dinner on Friday night, Rhiannon's bridal party gathered around and started to work feverishly. The sweet couple who own Little Piney, John and Julie, also rallied behind the bride and helped her decorate. Around midnight, with much left to do, everyone encouraged the bride to get her sleep. They assured her they would take care of the rest the following morning.
The bridal support team was back to work at sunrise. Little Piney had a closet full of decorations (in case of emergencies), where Rhiannon was able to find the perfect cupcake stands for her dessert table. Julie pulled out the dishes that her grandmother had given her on her wedding day. Amid all the wedding details, the forks for the cake had gone overlooked; John and Julie got busy raiding their kitchen and found 150 plastic forks to save the day.
"Each one of our couples is special to us because we work alongside them to start their marriage," Julie says. "It's really crazy isn't it? That we get to be with them at the beginning of this commitment to forever. It's kind of holy."
Rhiannon's wedding planner was scheduled to arrive at 4:00 in the afternoon to help execute the timeline. When she heard that Rhiannon was running behind schedule, she drove down, six hours early, to help with set-up. As the wedding photographer and makeup artist arrived, everyone had to convince the bride to leave the décor behind. Trusting her friends, family, and vendors, Rhiannon began really focusing on her wedding day. Everything was ready to go in time for the ceremony. The pictures are a clear depiction of how beautiful it truly was.
There is a lot to be said about traditions. Getting behind a bride to make sure her wedding day is full of love and laughter is one that ought not get lost in today's times. But these days, when we don't have a group full of church women to help pull it off, it's amazing how choosing quality vendors and surrounding yourself with loving family and friends can make a world of difference. Congrats to Ben and Rhiannon! May you feel the love and support of those around you for years to come.
Resources
Cake
Velvet Cupcake
velvetcupcakecafe.com
573-875-8888
Catering and Bartending
Trailside Bar and Grill
trailsidebarandgrill.com
573-236-4411
DJ
C&C All Around Sound
candcallaroundsound.com
636-528-9696
Dress
Ana Marie's Bridal
anamariesbridal.com
573-636-1060   
Flowers
Grindstone Hy-Vee
hy-vee.com
573-442-8595
Makeup
Confident Beauti by Erica
beautipage.com/spa-with-erica
573-489-8055
Planner
BHive Events
bhiveevents.com
573-999-6347
Photographer
Catherine Rhodes Photography
catherinerhodesphotography.com
573-645-2222
Venue
Little Piney
littlepineylodge.com
636-561-8615