The healing power of horses.
by Nicole Flood
Look around your community for something that needs to be done and do it; that's what Karen Grindler did in 1988. That year, she founded Cedar Creek Therapeutic Riding Center. The theater and communications MU alumna was working as a recreation coordinator at a nursing home and taking horse riding lessons when she learned about equine therapy, a type of therapy using horse riding to treat cognitive and physical disabilities. Grindler saw a need in the community, and, with the help of a riding instructor certified in equine therapy, she opened Cedar Creek.
She began the first year with 12 riders and four horses. Today, Cedar Creek's staff, volunteers, and 21 horses provide nearly 340 individuals in mid-Missouri with the benefits of riding each year.
The nonprofit provides lessons and equine therapy to riders from 2 years old to adulthood. Military veterans are among the frequent riders on the 2½ miles of wooded trails at Cedar Creek.
All riders are evaluated by a therapist and must have a doctor's release to ride. Each horse is chosen specifically based on each rider's needs. "The way that it works is through the movement of the horse," Grindler says. "It's a four-dimensional movement, so the exact same movement as the human walk. For a person who has an impediment to mobility, that movement alone is strengthening muscles in the back, legs, arms, and stomach. Because you're on a moving apparatus, it engages your whole body."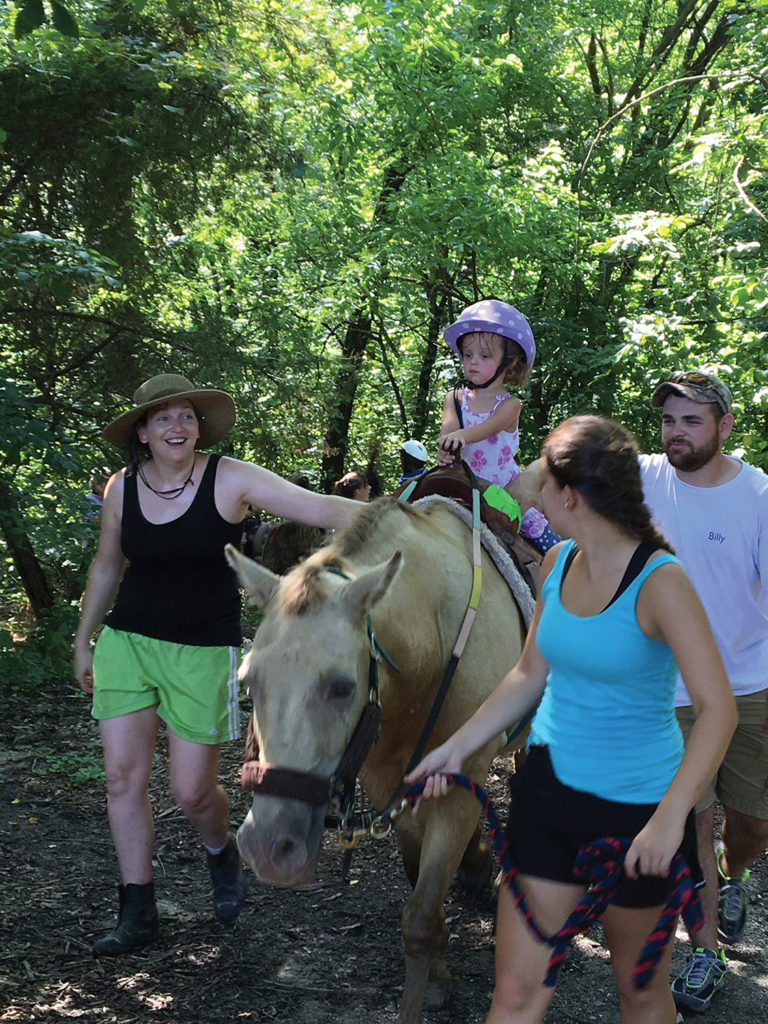 This motion created through riding helps improve balance, coordination, strength, and muscle tone. Cognitive impairments are addressed through learning horsemanship skills and stable management. Riding also helps individuals build bonds with the horses and improve self-esteem, giving riders a sense of independence and confidence.
For Grinder, the most rewarding part of providing equine therapy is all the firsts that happen at Cedar Creek. "It's hard to beat a child saying their first sentence on the back of a horse," she says. "It's hard to beat a child walking for the first time."
All of Cedar Creek's horses have been donated (except one — Mr. Clyde was purchased thanks to a grant from the Christopher Reeve Foundation). Grindler says that many of the donated horses are older and in the retired stages of their life. "The hardest part of my job is that the horses are older, but I feel good that, in the last years of their life, they have a purpose and are loved," she says.
Cedar Creek is run by a paid staff of 11 and many dedicated volunteers. They have three certified instructors (including Grindler), an occupational therapist, an office manager, and six wranglers, who help with the horses.
Volunteers work with riders for eight-week sessions in the spring, summer, and fall. Grindler says she often thinks of the change in the riders' lives, but she says volunteers are also touched by their experience at Cedar Creek. Many of the volunteers are college students; MU's Kappa Kappa Gamma sorority is especially involved. Members volunteer at Cedar Creek throughout the year and hold an annual golf tournament to benefit the center.
The riders and their caretakers can feel the passion Grindler and everyone at Cedar Creek has for the riders and the horses. "You definitely have to be passionate to run a nonprofit," Grindler says. "People see how much we and the horses love our job, and it becomes a great place to be a part of. I just feel very lucky to have a job helping people find ways to improve the quality of life through the horse. I get to meet some amazing people, and amazing animals as well."