Looking Forward To His Everything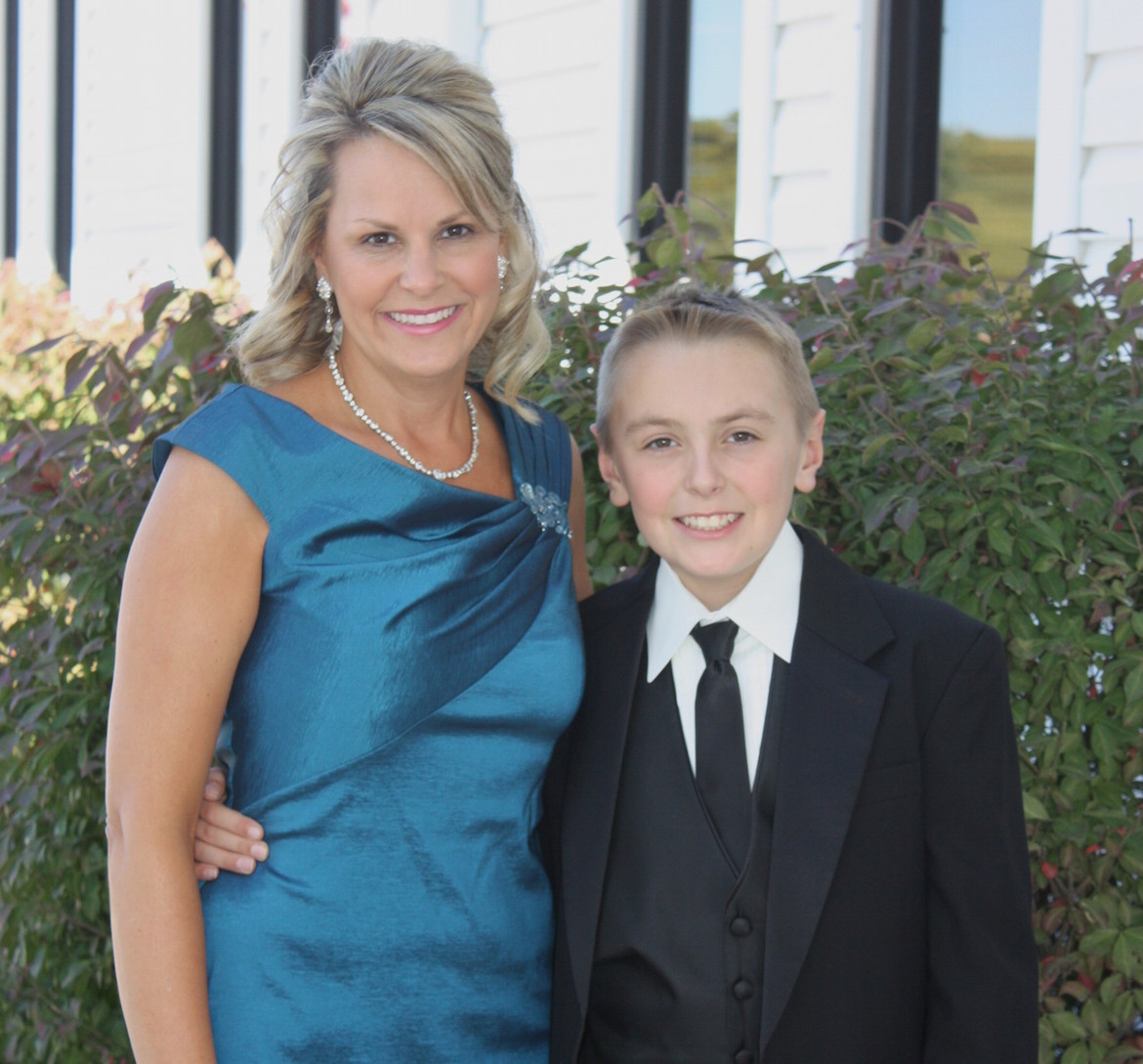 A few years ago when my son, Brandon, turned 13, I shared with him a special birthday gift. I had written a song for him several years prior and had been waiting for the right time to share it with him. I was waiting for a time when he would be old enough to appreciate the song and at least partially comprehend its meaning that I will always look forward to his everything.
I wrote the song when I was going through my divorce and my world was falling apart. At the time, Brandon had just turned 10. I wanted to capture in a song, just as I have on paper in the past, how I felt at that very moment. I wanted to write a song about how he is the one thing, that light, that has kept me going through it all.
So, I reached out to a songwriter friend and together, through many long conversations, tears, skype sessions and edits, "Looking Forward to His Everything" was born. (See complete lyrics below, and visit my website to listen to the song in its entirety.)
Research shows that creative expression contributes to better health and well-being. People are expressing themselves through the arts, whether it is musical, performance, visual or writing, and discovering how it can reduce the physical and emotional burdens associated with hardships in life. There is magical healing power in art. Powers that can help us heal when we are faced with struggles and pain in our life.
For me, music has always been healing and therapeutic. Music and dancing make me feel alive.
To me, the very act of writing "Looking Forward to His Everything" was therapy. It was a place where I could put my feelings out into the world. My feelings that then came to life through lyrics – through the verses, the chorus and the bridge.
The lyrics I wrote represent my journey with my son and how through it all, he was the one thing that kept me going. I think back to the day I was diagnosed with cancer and one of my wishes was to see Brandon off to kindergarten. When he walked out the door as a big kindergartner, I followed the bus to school, walked him to class and said goodbye. When I got home, I began to sob. Not because I was sad but because I had great joy knowing that I was here to see him off to school. Every year I think back to that moment, reflect on the years past and am thankful for another year, and yes, another tear.  I look forward to that dance at his wedding someday.
At times it's been a rough road. I would wonder how I would make it. All I had to do was see his smile and look in those little brown eyes. He will always be my baby, and I will always look forward to his everything. And what I wrote eleven years ago during my cancer treatments still remains true today:
"During my treatments, Brandon was the thing that kept me going. Somehow, regardless of how sick I may have felt from the chemotherapy or how much pain I was in from my surgery, if I looked down into Brandon's smiling face, all of my pain and fear would go away for that instant. He was what kept me going day after day. On the days that I was too tired to climb the stairs or too tired to eat, I saw Brandon's smile. On the days I really didn't want to go to my chemotherapy treatments, I saw Brandon's smile. On those days that I just didn't think I could make it, I saw Brandon's smile. He was there and continues to be there with his smiling face, keeping me going day after day."    
During my divorce, there were days when I didn't want to get out of bed, or I would hide in the closet feeling my world falling apart wondering how I would make it through. That's when I saw Brandon's smile. I knew I had to pull it together – for him, for us.
I am proud of the big man he is becoming full of compassion, laughter and even the 15 year-old attitude at times. But most of all, he is full of life. I look forward to the day when he has his own little man and looks forward to his everything. I never wondered how I'd make it through, but looking forward to his everything was all I had to do.
I am so glad I had the courage to write this song and share it with him and now you. It was a crucial piece to my healing after my divorce. And now, anytime I need to smile and think about how far I've come, I listen to "Looking Forward to His Everything."
My challenge to you, if you are dealing with your own challenges and struggles in life is to share your story. Write your song, journal, dance, sing or paint. Don't hold back. It can help you heal and continue to move forward after dealing with hardship.
 Lyrics to Looking Forward To His Everything (B's Song)
Shanon Tucker/Kim Becking
SHE STANDS UP ON STAGE, LOOKS OVER THE CROWD
BRIGHT LIGHTS HIDE FACES, HER TEARS, LOOKING DOWN
SHE REMEMBERS A DAY
WHEN SHE FELT SO ALONE
IT'S A BEAUTIFUL THING, TURNING TEARS INTO SMILES
TOUCHING THOSE SHE WOULD NEVER HAVE KNOWN IF SHE DIED
SHE THANKS GOD FOR EACH DAY
AND HELPING HER TO SHOW OTHERS THE WAY
NOW LOOKING BACK THROUGH THE YEARS
SHE KNOWS THAT SHE'S STRONG, SHE'S FACED ALL HER FEARS
CHORUS
WAKING UP EVERYDAY TO HER BABY'S BROWN EYES
THE SMILE ON HIS FACE, SO FULL OF LIFE
HE WAS JUST BARELY TWO
FILLING SOME PRETTY BIG SHOES
SHE DOES ALL THAT SHE CAN, JUST  KEEPS MAKING PLANS
TO MAKE SURE THAT SHE'S HOLDING HER LITTLE MAN'S HAND
ON HIS FIRST DAY OF SCHOOL
ONE MORE DAY BECAME HER GOLDEN RULE
SHE DOESN'T WONDER HOW SHE MADE IT THROUGH
LOOKING FORWARD TO HIS EVERYTHING WAS ALL SHE HAD TO DO
EVERY LIFE IS HAS ITS CHANGES, HER SHARE IN HER TIME
WHEN HIS DAD RAN AWAY
SOME DAYS IT TOOK ALL HER STRENGTH JUST TO SURVIVE
IT'S HARD TO LOOK IN HIS  EYES WHEN HE CRIES
EVEN WHEN SHE GETS TIRED, SOMETIMES TOO TIRED TO BREATHE
SHE'LL MAKE SURE THAT LITTLE MAN GROWS UP TO BE
THE BEST MAN HE CAN BE
AFTER ALL, HE'S HER EVERYTHING
SHE GETS BETTER WITH EVERY YEAR
SHE KNOWS THAT SHE'S STRONG, SHE'S FACED ALL HER FEARS
CHORUS
WAKING UP EVERYDAY TO HER BABY'S BROWN EYES
THE SMILE ON HIS FACE, SO FULL OF LIFE
WAY TOO MUCH LEFT TO LOSE
FILLING SOME PRETTY BIG SHOES
SHE DOES ALL THAT SHE CAN, JUST KEEPS MAKING PLANS
TO BE  SURE THAT SHE'S THERE WHEN HE ASKS FOR HER HAND
AND WHEN THEY SAY I DO
ONE MORE DAY STILL HER GOLDEN RULE
SHE DOESN'T WONDER HOW SHE MADE IT THROUGH
LOOKING FORWARD TO HIS EVERYTHING WAS ALL SHE HAD TO DO
BRIDGE
SEEING HER LITTLE BOY SMILE
HIS BRIDE WALKING DOWN THE AISLE
      
CHORUS
WAKING UP EVERYDAY TO HER BABY'S BROWN EYES
THE SMILE ON HIS FACE, SO FULL OF LIFE
SHE DOES ALL THAT SHE CAN, KEEPS MAKING PLANS
HE'S ALL GROWN UP BUT STILL HER LITTLE MAN
SHE DOESN'T WONDER HOW HE'LL MAKE IT THROUGH
LOOKING FORWARD TO HIS EVERYTHING IS ALL HE'LL HAVE TO DO