November: Movers and Shakers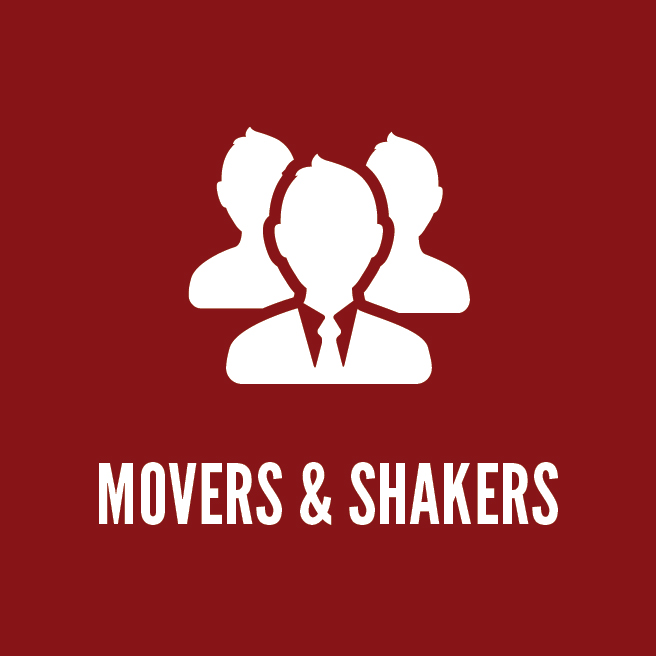 Alicia Troesser
Alicia Troesser has filled the new position of art director at Caledon Virtual. She served as senior graphic designer since joining the firm in April. Prior to that, Troesser served as social media director at Communique and graphic designer at Veterans United Home Loans.
‡‡Bill Plank
Naught-Naught Insurance Agency announced Bill Plank will join the company's team, leading business development efforts. Plank has more than 15 years of financial and management experience. Recently, he established and ran the construction lending division for a mortgage lender in Missouri.
‡Kristen Grusenmeyer
The Columbia Chamber of Commerce hired Kristen Grusenmeyer as Women's Network coordinator. Grusenmeyer will oversee the Women's Network division, which has more than 450 members.
‡‡Central Bank of Boone County
Central Bank of Boone County announced 14 employee promotions. In customer service, Melissa Hecht was named a senior team leader and John Hiatte was named a senior customer service representative. Maria Garcia Limon, Linda Jordan, Radhia Khenissi, Jasmine Newman, Trista Reeder and Catherine Graver were named customer service representatives II. Leslie Adams was promoted to human resources coordinator II and Katie Baker joined as a human resources specialist. Kristen Petty was named a financial associate at the Keene Financial Center and Susie Conrad was promoted to customer service representative at Lake of the Woods Bank. Elizabeth Bauer, at the Downtown Bank, and Mariah McWhirter, of the Village Bank, were promoted to teller II.
‡‡Boone County
Terry Cassil has been selected as the director of Boone County emergency management and Chad Martin has been selected as the director of Boone County joint communications. Cassil worked for the Missouri State Emergency Management Agency as the chief of operations and response branch manager. Cassil was also a firefighter for the city of Columbia for 21 years before retiring in 2014. Martin was a captain in the Boone County Sheriff's Department for nearly 19 years.
‡‡Larry and Brenda Potterfield
Larry and Brenda Potterfield, owners of MidwayUSA, received the John L. Morris award from the Association of Fish & Wildlife Agencies, in recognition of their leadership in wildlife conservation.
‡‡Sarah Eagon
Sarah Eagon, title production manager of Monarch Title Company, was honored with the 2015 Young Title Person of the Year award from the Missouri Land Title Association. This award is given to an individual 35 years or younger who excels in the title insurance profession.
‡‡Columbia College
Columbia College announced that Suzanne Rothwell will be the interim director of advancement. Rothwell will oversee the college's development, alumni relations and public relations departments. Rothwell has served as the director of public relations for more than two years. Brenda Myers has also been promoted to interim senior director of marketing. Myers will be responsible for directing strategic initiatives to raise brand awareness and drive growth through traditional and digital media channels. Most recently, Myers served as senior director of content and direct marketing.
‡‡Ryan Wiedmeyer
Ryan Wiedmeyer, vice president of commercial banking at The Bank of Missouri, was recently named volunteer of the year for Primrose Hill Teen Challenge. Wiedmeyer has been with The Bank of Missouri since February 2013. Primrose Hill is a residential recovery center for women who have drug and alcohol addictions and their families.
‡‡Central Trust Company
Kim Schwend and J. Bryan Allee have joined the Central Trust Company. Schwend serves as assistant vice president and relationship manager, and Allee serves as vice president and relationship manager. Schwend has nearly 20 years of experience in the financial industry. Prior to joining Central Trust, Schwend worked for its sister bank, Central Bank of Boone County, for 19 years. Allee has worked in the industry for more than two decades, with experience at Valley View Bank and Valley View Trust Company and the Midwest Trust Company.
‡‡Alternative Community Training
Alternative Community Training has added three new members to its board of directors: Chuck Collins, Shelter Insurance; Myles Hinkel, Missouri United Methodist Foundation; and Aron Cowsert, Veterans United Home Loans.
‡‡Elizabeth Loboa
Elizabeth G. Loboa has been named dean of the MU College of Engineering. Loboa was associate chair and professor of the Joint Department of Biomedical Engineering at University of North Carolina-Chapel Hill and North Carolina State University. Loboa was also a professor of materials science and engineering at North Carolina State.