The Dish: Graffiti Bridge Pizza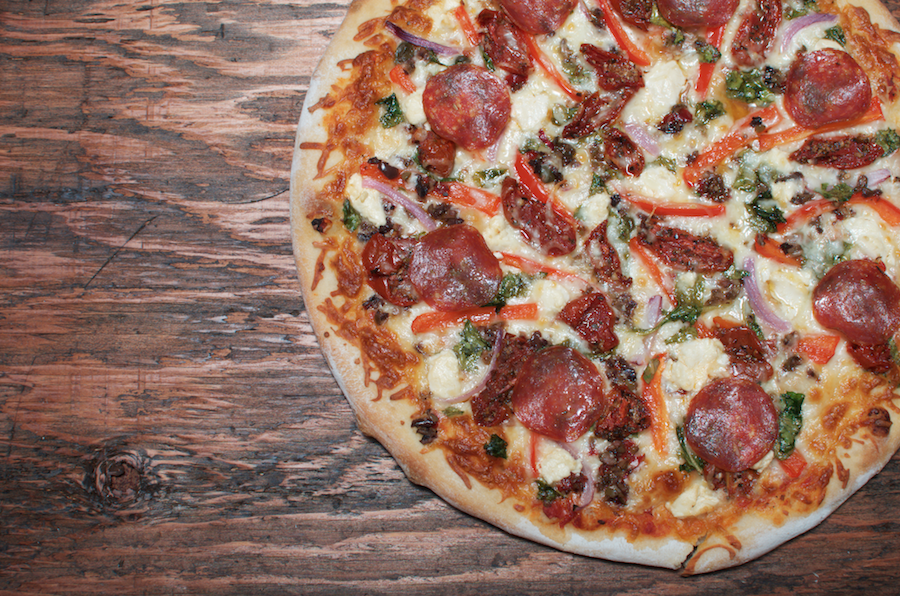 As a busy mom, I continually look for dinner options that require less prep and shorter cooking time. However, I am also a creative person who loves to experiment with food. One of my favorite foods is pizza, but it was never a dish I felt I could make at home until I found fresh, oven-ready dough at Publix a few years ago. I, like many other hopeful moms, had tried the stiff, ready-made crusts, the box mixes and the dough in a can to no satisfaction. I was more than willing to spend a few bucks on a fresh ball of dough and try my luck. I'm so glad I did!
This pizza is a recent addition to a plethora of other pies I've created over the past two years; it's called Graffiti Bridge (yes, all my pies have music-related names). Some of the ingredients require short prep time, but overall, this pizza is quick to the oven. To save time, I purchase olive relish, sliced roasted tomatoes and shredded cheese. You can usually find fresh pizza dough at a local grocer who bakes bread each day. Just don't be afraid to ask the person working behind the deli counter.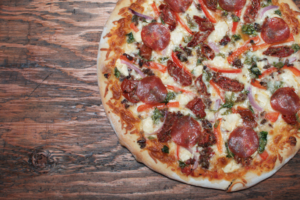 Ingredients:
1 fresh ball of pizza dough
1 c. of your favorite red sauce
1 c. spinach
1 medium-sized red pepper
1/3 c. olive relish
¼ c. red onion sliced
1 c. roasted tomatoes in olive oil; can substitute sundried tomatoes
½ c. baby portabella mushrooms
10 dehydrated figs, halved
2 oz. goat cheese
2-3 c. mozzarella cheese (depending on your love of cheese)
8 large slices of pepperoni
¼ c. of olive oil
Basil flakes, red pepper flakes, garlic powder and honey (optional).
Instructions:
Preheat oven to 400 degrees. Flour a surface to roll out pizza dough to desired thickness. Dust pizza stone or pan with garlic powder, and place dough on prepared surface. Spread sauce evenly on dough. Sprinkle the cheese, spinach leaves, red pepper, olive relish, onion slices, roasted tomatoes, mushrooms and fig halves to your liking. Drop dollops of goat cheese around the pie and finish with pepperoni. The pepperoni will crisp up during the baking process (highly desirable). Place pizza in the oven for 15 minutes then slide off of stone or pan and allow it to bake directly on the rack for approximately 5 to 7 minutes. Keep checking the pizza as ovens vary. Remove pizza when crust is golden, cheese is melted and browning up nicely, and pepperonis look crispy. Once removed, you might want to dust with basil flakes, red pepper flakes or drizzle with honey. We like to drizzle ours with a bit of olive oil as well.