Business park boosted by new outlet, IBM
The Concorde Office and Industrial Plaza gets its largest tenant and long-awaited northern outlet in November.
IBM is opening its service delivery center, which is expected to employ about 800 people within two years. The city is opening the new road and bridges from the business park to Stadium Boulevard and the Crosscreek Center, which will relieve commuter traffic congestion at the southern entrance off New Haven Road.
There are several new tenants at Concorde, including FedEx and Linen King, and a few tenants planning to expand, such as Carfax.
The commercial park has about 30 buildings and 20 different property owners, covers 145 acres and has two roads, LeMone Industrial Boulevard and McGuire Boulevard. There are more than 1,900 employees, and a traffic study determined that about 3,500 cars and trucks come into the area on a typical business day.
Most people refer to the commercial park as the LeMone industrial area because its founder was the late Bob LeMone, who owned Little Dixie Construction Co. The area was platted in 1979, and Little Dixie Holding Co. began building the roads, installing the infrastructure and erecting the buildings soon thereafter.
McGuire Extension
The extension to Stadium Boulevard had been on the city's major roadway plan for 26 years and was on the list of projects to be subsidized by a voter-approved sales tax dedicated to road construction. The project was given initial approval in 2006 after developers affiliated with Little Dixie and Crosscreek agreed to pay half the $8 million cost.
Still, concerns about the cost and environmental impact of bridging Grindstone Creek caused an extended debate in the community. Then heavy rainfall during a summer storm undermined a bridge foundation, and repairs caused the scheduled completion date to be pushed back a month.
City Manager Bill Watkins has indicated that without the extension, the IBM deal might not have been possible. The extension also is expected to encourage development at Crosscreek, where projects in the works include a Joe Machens Automotive dealership, a Landmark Bank branch, a Break Time convenience store and a Taco Bell restaurant.
The contractor was Emery Sapp and Sons, and the project was funded by the Special Road District Tax, the one-quarter-cent Capital Improvement Sales Tax, capital fund balance, development fees and developer contributions.
IBM Service Delivery Center
IBM's center is expected to begin operating out of the building at 2810 LeMone Industrial Blvd. by Nov. 1. Little Dixie Construction gutted the old building at the site in May and finished the $10 million reconstruction in late October. IBM won't give exact employment figures, but the company has said it plans to eventually employ up to 800 IT workers at the facility by 2012. The company has already begun hiring and training new workers, and during the next several months the office should begin filling up.
Warehouse for Lease
The featured property for lease on the REDI website is one of the few unoccupied buildings in the LeMone industrial area. It is a warehouse/distribution center covering 131,317 square feet and is directly across the street from IBM.
The former occupants of 2501 LeMone Industrial Blvd. were Wainright Industries and the Anheuser-Busch Promotional Products Group.
Carfax
Carfax purchased four acres directly to the south of its data center and plans to build a 10,000-square-foot addition to house its growing operations. The company expects to hire 45 to 50 employees in the next three to five years, Vice President Gary Lee said. The Carfax workforce has grown from 120 to 135 full-time workers in the past three years, and it has run out of room, particularly in its parking area, where there are only 122 spaces, Lee said. The company recently hired more employees, in part because the used-car market began to pick up.
Carfax uses the 17-character vehicle identification number, or VIN, located on dashboards and in title documents, to generate a detailed history report on any used car or light truck.
Construction is scheduled to begin next spring and be finished by the end of next year. The current data center, covering 23,000 square feet, opened in 2003.
Linen King
Linen King, an Oklahoma-based provider of laundry services to the health care industry, started operations in August. The company has 30 employees in its 52,000-square-foot facility at 2600 Maguire Blvd. The building used to be occupied by Cole Hartford, which distributed paper products for the food service industry.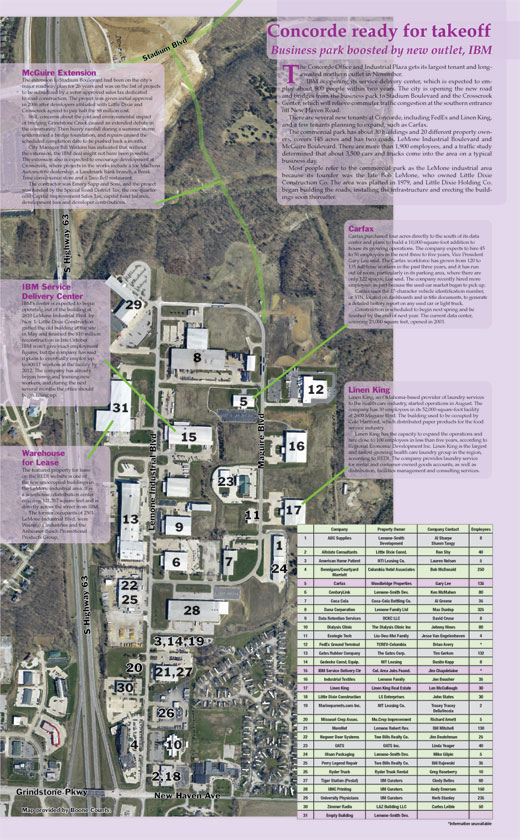 Linen King has the capacity to expand the operations and hire close to 100 employees in less than five years, according to Regional Economic Development Inc. Linen King is the largest and fastest-growing health care laundry group in the region, according to REDI. The company provides laundry service for rental and customer-owned goods accounts, as well as distribution, facilities management and consulting services.
Company
Property Owner
Company Contact
Employees
1
ABC Supplies
Lemone-Smith Development
Al Sharpe
Shawn Tangy
8
2
Allstate Consultants
Little Dixie Const.
Ron Shy
40
3
American Home Patient
NTI Leasing Co.
Lauren Nelson
5
4
Bennigans/Courtyard Marriott
Columbia Hotel Associates
Bob McDonald
250
5
Carfax
Woodbridge Properties
Gary Lee
135
6
CenturyLink
Lemone-Smith Dev.
Ken McMahon
80
7
Coca Cola
Coca-Cola Bottling Co.
Al Greene
35
8
Dana Corporation
Lemone Family Ltd
Max Dunlop
325
9
Data Retention Services
DCKC LLC
David Cruse
8
10
Dialysis Clinic
The Dialysis Clinic Inc
Johnny Hines
80
11
Ecologic Tech
Liu-Dou-Mei Family
Jesse Van Engelenhoven
4
12
FedEx Ground Terminal
TCREV-Columbia
Brian Avery
*
13
Gates Rubber Company
The Gates Corp.
Tim Gerken
132
14
Godecke Const. Equip.
NIT Leasing
Dustin Kopp
8
15
IBM Service Delivery Ctr
Col. Area Jobs Found.
Jim Chapdelaine
*
16
Industrial Textiles
Lemone Family
Jon Boucher
35
17
Linen King
Linen King Real Estate
Len McCullough
30
18
Little Dixie Construction
LS Enterprises
John States
30
19
Marineparents.com Inc.
NIT Leasing Co.
Tracey Tracey
DellaVeccia
2
20
Missouri Crop Assoc.
Mo.Crop Improvement
Richard Arnett
5
21
MoreNet
Lemone Robert Rev.
Bill Mitchell
130
22
Negwer Door Systems
Two Bills Realty Co.
Jim Deutchman
25
23
OATS
OATS Inc.
Linda Yeager
40
24
Olson Packaging
Lemone-Smith Dev.
Mike Gilpin
5
25
Perry Legend Repair
Two Bills Realty Co.
Bill Rajewski
35
26
Ryder Truck
Ryder Truck Rental
Greg Roseberry
10
27
Tiger Station (Postal)
UM Curators
Cindy Bolles
60
28
UMC Printing
UM Curators
Andy Emerson
150
29
University Physicians
UM Curators
Herb Stanley
235
30
Zimmer Radio
L&Z Building LLC
Carlos Leible
50
31
Empty Building
Lemone-Smith Dev.