Kampai Sushi Bar and Restaurant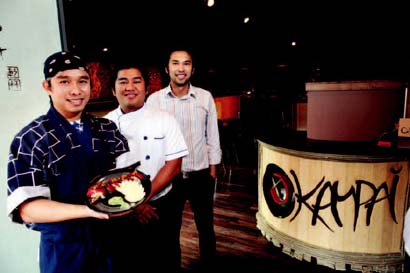 Every year when I go skiing, I look forward to a visit to one of my favorite sushi bars, right smack in the middle of a Colorado resort town.
Invariably, after another impressive dinner of inventive rolls (and perfect tempura and strangely delicious mochi ice cream), I start to mutter about why it's possible to get such great sushi in the middle of Colorado but not in the middle of Missouri.
I haven't been impressed by the sushi in Columbia. I worry when I bite into a piece of salmon and my hair immediately wants to stand on end in shock at the wave of wasabi. There it is hidden under the fish, trying to disguise — what? A piece of fish that perhaps isn't quite fresh enough?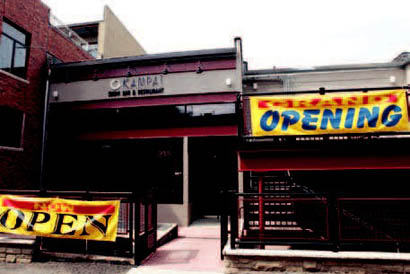 But I keep hoping, and that's how I ended up with a couple of friends wandering down an alley on Ninth Street half a block south of Broadway to try Kampai, the newest of Columbia's sushi bars.
You will hear it before you see it: blasting dance music meant to entice the younger and hipper onto the terrace that overlooks the alley. But for dinner or a quiet lunch, you might want to stick to the handsomely appointed dining room below.
Lined with brown and beige banquettes, the dining room is coolly lit by the floor-to-ceiling windows that face the alley. An inverted "curtain" of bamboo creates a delicate barrier between the alley and the dining room. A gorgeous Japanese tapestry covers one wall and helps buffer some of the noise in the room.
It wasn't quite enough of a buffer on a recent visit when the music in the dining room was too loud, but we noticed as the evening wore on that the volume came down significantly as if someone had complained and been accommodated.
It would not be a surprise because Kampai's service is attentive and professional. Our waitress, for example, suggested a smart adjustment to one of our orders. She was on hand whenever we needed her — but not too much — and responded perfectly when we asked her not to rush out our last dish. We only wished she hadn't been so quick on the draw with our check so we could feel comfortable about lingering and talking in that pleasant space.
As for the food, we ordered two appetizers: the octopus salad ($5) and the vegetable tempura ($6.25). The octopus dish is a scrumptious blend of sweet-crunchy octopus meat, sesame seeds and oil, ginger and scallions. It was even better than the seaweed salad, which we'd tried and loved on a previous visit.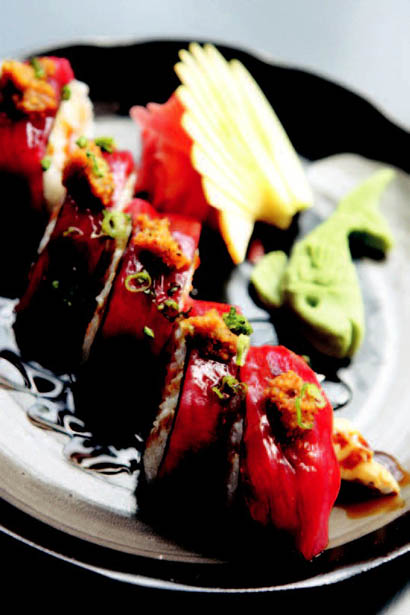 The tempura was the low point of our meal. When cooked expertly, tempura is impossibly light and crunchy on the outside while the vegetable is tender but firm on the inside. Kampai's tempura is a little heavy, and the choice of vegetables wasn't diverse enough to create that sensation of satisfying contrasts at the first bite. There were too many bland starches in the mix.
We moved on to the CoMo roll ($6.25), the "house special" combination of tuna, avocado, pickle radish and colorful smelt egg. We loved it. The salmon we ordered from the a la carte menu ($2.50/each) was beautifully cut and fresh tasting.
(On an earlier visit, we tried the salmon, tuna, caterpillar, dynamite and rainbow rolls and liked all of them — especially the caterpillar.)
Finally, we tried a plate of yaki soba with chicken ($8.95) to get a sense of Kampai's noodle offerings. This was the dish we struggled to share like grownups and declared instantly habit-forming. It's the combination of tangy sauce, crunchy bean sprouts and fried noodles with perfectly grilled chicken. The dish is also on Kampai's lunch menu, so we'll go back for it.
Sadly, after several Japanese beers (in very cold glasses on a very hot day) and all of the above, we didn't have room for fried or mochi ice cream.
The total for a pretty great dinner for two in Alley A was less than $60, including a good tip. But if you're like me, you don't care a lot about the price when you want sushi. It just has to be fresh, beautifully prepared and presented in an atmosphere that complements its delicacy. With a few minor adjustments, Kampai will be very close to the mark.
4 of 5 stars
Kampai Sushi Bar & Restaurant
907 Alley A | (573) 442-2239
kampaialley.com