From Ground Up: Landscaper expands vertically
Rost's new garden center location opening in fall
In 1985, Tim Rost told his mother he'd be taking a semester off from MU's agriculture college to work full time as a landscaper in Columbia.
Rost, who had been working a summer job landscaping, found one day that his boss had left town, so he and his coworkers began to finish the projects themselves. That semester "off" turned into a decades-long career as he helped build a multimillion dollar landscaping company.
Rost turned the company into a vertically-integrated landscape contracting business with a tree farm, irrigation service, wholesale service, maintenance division and retail store, with combined annual gross revenue of more than $7 million and 100 employees during the busiest months. His wife, Toby, is the co-owner and office manager. They married in 1989.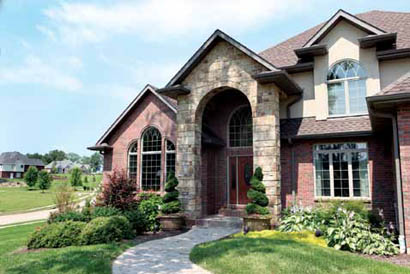 The company's growth in the 1990s mirrored Columbia's swift expansion, as the owners of new homes and commercial buildings needed landscaping. Rost said that other mom-and-pop subcontractors weren't able to keep up with the volume of business his company wanted to do, so he started integrating the business vertically.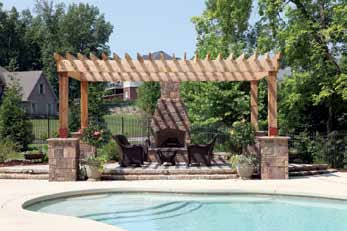 "Columbia was growing faster than the companies, and they couldn't ramp up," Rost said. "We just filled the niche."
Rost also found that homebuilders were disinclined to design and build pools, patios and outdoor rooms and moved to provide that service. "The more pools we do, the more requests we get," Rost added.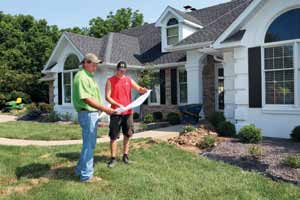 In 1991, Rost opened Superior Garden Center, which specialized in customer service for homeowners planning to landscape their yards. Clients at the store were asking Rost to help maintain their home landscaping jobs, so the business set up a maintenance division.
Salt Creek Tree Farm, a 600-acre enterprise, started about the same time and supplies Rost and other landscapers with trees.
Due to the volume of Rost's orders for products such as mulch, they were able to use their shipping power to supply smaller landscapers with a wholesale division.
Rost recently bought Superior Irrigation Company, which includes a fence and lighting installation service. The company will do business with Rost clients and other projects such as golf courses.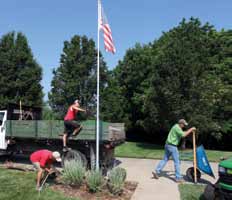 The land on which Superior Garden Center sat on Old Highway 63 South was sold several years ago as the area developed and nearby big box stores began carrying the same garden products for less, which caused business to shrink.
"I think they really did a good job of lowering people's expectations of service to where people don't expect it anymore," Rost said.
Superior Garden Center closed on May 20. Rost said Superior was a great tool for the overall business, but they didn't need the garden center to the degree they used to.
"The energy that it took to be in a retail center was better spent on the other aspects of the business," Rost said.
This fall, Rost will open a new garden center in Midway next to its headquarters. The new garden center will be what Rost calls a "destination point" for homeowners. Rost said they will be adding a variety and quantity of plant inventory that's about five to six times the size of the old garden center.
Although the recession has brought a drop in tree prices due to market saturation, the overall business is not hurting this year because of its diversity, Rost said. Business in 2009 was down 35 percent from 2008, but Rost said profits were up.
"We were able to do that by being extremely over-the-top in management," Rost said. He also credits longtime employees and a faithful customer base that has remained stable. This year, Rost estimated that sales are almost up to 2008 levels.
"We like to see ourselves as big enough to do big jobs but small enough that we still know what goes on," Rost said. He added that high-level managers still directly oversee 99 percent of the jobs. .
Rost's big projects on the horizon include the new Boone Hospital patient tower and IBM's Lemone Industrial Boulevard data center.
In the future, the company is "probably going to be more and more jobs where we're a general contractor," Rost said. That would include more work in land planning and with civil engineers.