20 under 40 Through the Years: A Timeline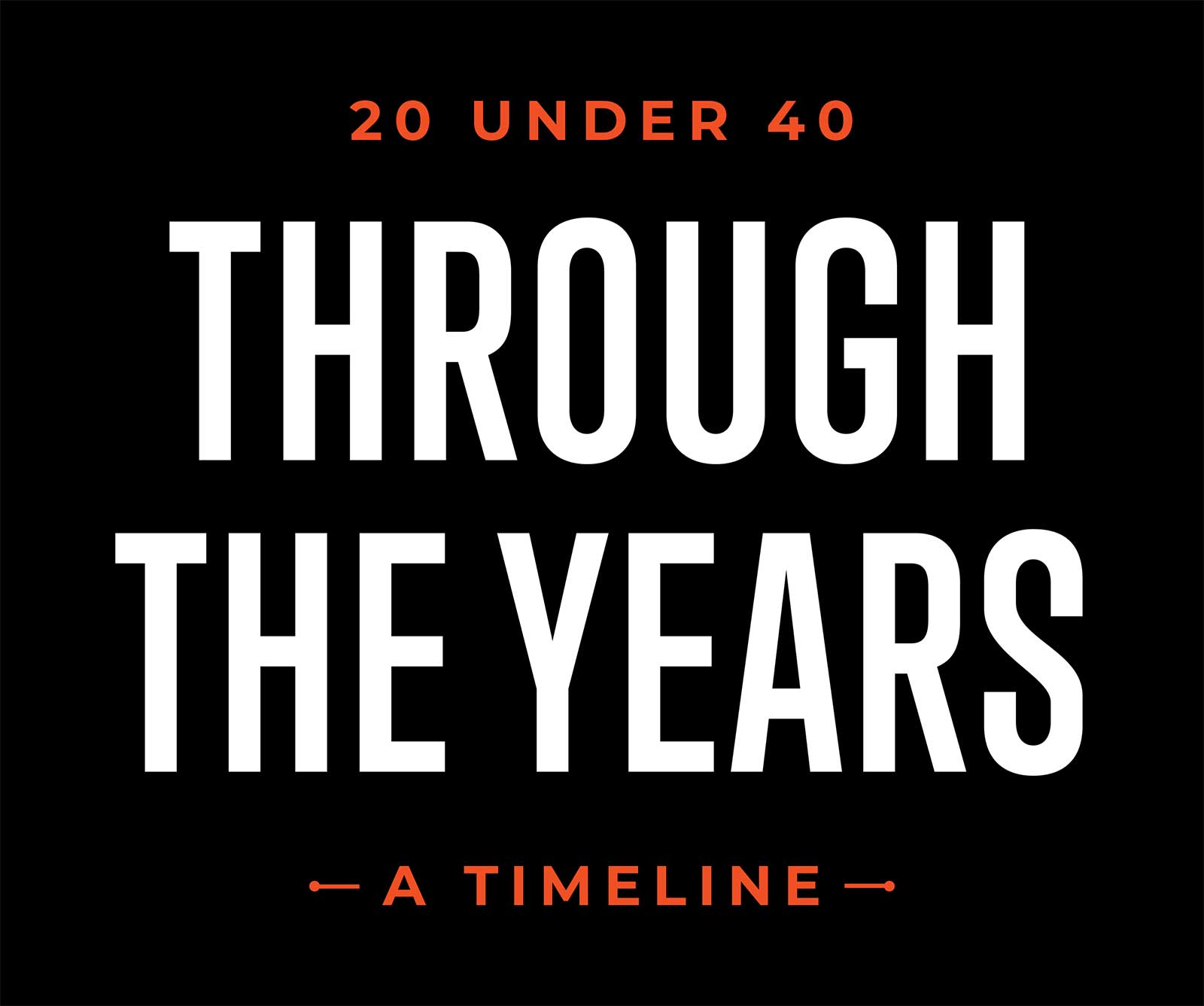 20 under 40 has a deep legacy of highlighting change-makers and influencers in our community. While our records are incomplete due to a variety of factors, including archiving methods changing, we do know that the first class was selected in 2001. It was known then as 40 under 40 and was held every other year. Over time, it became 20 under 40 and has been celebrated yearly. 
The current format of 20 under 40 began in January 2014 and has stayed consistent in celebrating the unique people that make our community thrive. Honorees have included not just entrepreneurs and businesspeople, but also teachers, artists, police officers, firefighters, politicians, and religious leaders.
Each 20 under 40 class is interviewed, photographed, and featured in the magazine with the goal of learning who they are beyond their LinkedIn profile. The celebration culminates in a black tie gala in their honor. Videos featuring past classes can be found on the COMO Magazine website.
You can be a part of forming future classes by nominating someone deserving. Our nominations for the next class will open in August 2022.
---
Class of 2001
Andrew Beverley
Craig Brumfield
Jim Cherrington
Jill Cox
Rob Dunscombe
Ann M. Echelmeier
Jeffrey T. Echelmeier
Michael Flanagan
Brian Forrest
Anna Hargis
Susan Hart
Tim Hickman
B.J. Hunter
Paul Jackson
Steve Knorr
Sabrina McDonnell
Elizabeth Mendenhall
Mario Moccia
Brian Neuner
Ed Orr
Mark Palmer
Joe Priesmeyer
Marci Reimler
Suzanne Rothwell
Bob Schaal
Paige Scott
Teri Smith
Chris Stevens
Lili Vianello
Cindy Whaley
Class of 2003
Catherine Atkins
Tom Bradley
Marnie Clark
Bill Costello
Paula Elias
Renee Hulshof
Michele Kennett
Wendy Knorr
Trish Koetting
Candy Neuner
Sarah Reeseman
J. Michael Roach
Dan Ruether
Greg Trachsel
Wendy Wiederhold
Greg Wolff
Tonya Wolff
Class of 2005
Gregory Baker
Sonja Derboven
Mendy Diel
Heather Dimitt-Fletcher
Sarah Dubbert
Cindy Frazier
Matt Garrett
Deborah Graves
Shatenita Horton
Sahba Jalali
John Keller
Rose Lloyd
Leigh Nutter
Gena Patton
Steve Powell
Rob Quinn
Michael Radzin
Brian Smith
Keri Tipton
J. Alan Weber
Class of 2007
Larry Atterberry Jr.
Shawn Barnes
Michelle Baumstark
J. Scott Christianson
Shelly DeVore
Kate Essing
Steve Hollis
Jocelyn Kilgore
Jennifer Thomas
Emily Thoroughma

Class of 2009
Jay Alexander
Brent Beshore
Jerry Dowell
Cameron Dunafon
Alex George
Mike Grellner
Michelle Kemp
Todd McCubbin
Mike Messer
Jack Miller
David Nivens
David Tyson Smith
David Townsend
Lindsay Young Lopez
Class of 2011
Amanda Barnes-Tolson
Kerrie Bloss
Kate Boatright
Susanne Bylund
Anne Churchill
Kellie Ann Coats
Camren Cross
John Fabsits
Kris Farmer
Mills Menser
Erik Morse
Freddy Spencer
Michele Spry
Travis Tucker
Tim Weiss
Class of 2014
Beau Aero
Andrea Benna
Jen Bukowsky
Brian Cunningham
Lily Dawson
Emily Holdman
Rachel Holman
Katelyn Jones
Matt Kitzi
Kari Laudano
Izzy Leatherman
John Meyer
Amanda Owens
Monica Pitts
Caleb Rowden
Joel Sager
Sean Siebert
Peter Stiepleman
Dale Wright
Class of 2015
Joshua Burrell
Emily Clapp
Aimee Davenport
Nathan Fleischmann
Nicole Galloway
John Hall
Danielle Harrison
Eric Johnson
Caleb Jones
Kip Kendrick
Leighanne Lamb
Caroline Leemis
Lydia Melton
Eric Morrison
Sidney Neate
Elizabeth Palmieri
Rachel Payton
Candice Rotter
Don Seitz
Josh Tennison
Class of 2016
Sonya Addison
Lyria Bartlett
Barbara Buffaloe
Caleb Colbert
Jon Galloway
Tyson Hunt
Curt Kippenberger
Madeleine LeMieux
Matt McCormick
Andrea Paul
Kelsey Raymond
Laura Roeder
Chris Rosskopf
Jabbok Schlacks
William Schlacks
Jonathan Sessions
Drew Smith
Steve Tuchschmidt II
Michael Urban
Stephanie Wilmsmeyer
Jim Yankee
Class of 2017
Elias Abadi
Brooke Berkey
Ada Buckman
J.D. Calvin
David Coil
Annie Doisy
Ty-Ron Douglas
Justin Dyer
Alissa Gerke
Amanda Jacobs
Nathan Jones
Kimberly Lodge
Billy Polansky
Joe Ritter
Mark Stinson
Gary Tegerdine
Nathan Todd
Brian Whorley
Loreli Wilson
Jessie Yankee
Class of 2018
Barbie Banks
Jesse Bodine
Kristen Brown
Taylor Burks
Cory Crosby
Nickie Davis
Jackie Floyd
Jaime Freidrichs
David Isaacks
Scott Lenger
Brianna Lennon
Brian Millner
Leigh Neier
Cara Owings
Nic Parks
Amanda Quick
Dan Riepe
Jesse Walters
Adam Weber
Valerie Zumwalt
Class of 2019
Judson Ball
Greg Brockmeier
Jose Caldera
Sara Cochran
Randy Cole
Josh Devine
Gabe Garcia
Chrystal Graves
Danny Hammack
Benjamin Hamrah
Aric Jarvis
Krista Kippenberger
Jay Lindner
Megan McConachie
Mike Nolan
Jaime Palmer
Arminta Phelps
Lara Pieper
Jolyn Sattizahn
Lee Sensintaffar
Liz Tucker
Class of 2020
Mason Aid
David Anderson
Taylor Bacon
Angie Bass
Matt Boyd
Heather Brown
Stacey Cole
Kyle Cook
Secily Devese
Sarah Dresser
Laura Gerding
Tommy Goran
Dr. Bridget Gruender
Galen Hassler
Geoff Karr
Cole Knudsen
De'Vion Moore
Sarah Moreau
Camille Roland
Megan Sievers
Annette Triplett
Class of 2021
Michael Aslanidis
Julia Chisholm
Erica Dickson
Aaron Emel
Ashley Emel
Jason Gruender
Kelly Hill
Kari Hopkins
Chris Horn
Jerrell Jackson
Marcus Jones
Sarah Klaassen
Wendy Moore
Garrett Pearson
Trent Rash
Josh Rein
Joe Seymour
Jeremy Spillman
Megan Thomas
Megan Walters
Class of 2022
Brandon Banks
Michele Curry
Jacob Garrett
Amber Goodwin
Stephen Graves
Mark Hoehne
Ming Hsieh
Austin Ilsley
Lauren Karr
Misty Larkins
Darren Morton
Tyson Mutrux
Kerri Roberts
Amanda Ruyle
Jessica Schlosser
Garima Singh
Corrina Smith
Megan Steen
T'Keyah Thomas
Wende Wagner
If you have information to update this roster from past classes, please email [email protected]